Recall Help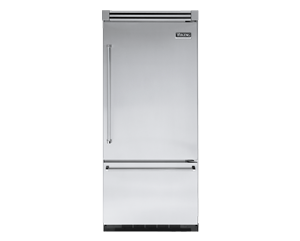 IMPORTANT PRODUCT RECALL NOTICE
In cooperation with the Consumer Product Safety Commission, Viking is voluntarily recalling certain Built-In 36-Inch Bottom Mount Freezer Refrigerators manufactured between November 1, 2005 and August 10, 2012.
The voluntary recall is being implemented as a result of the potential for the weld securing the pin to the pivot plate on the door to break, causing the door to detach from the refrigerator and creating a risk of impact injury or fall. Viking has received 12 reports of injury or potential injury and has received 39 reports of doors detaching, some of which resulted in serious injury or property damage.
Viking will repair all affected refrigerators by replacing the hinge and pivot plate, which incorporates a headed pin, eliminating the risk of the door detaching from the refrigerator.
You may continue to use the recalled products until they are repaired. However, you should open and close the refrigerator door carefully until the repair is performed. You should inspect your refrigerator to see if the refrigerator door is exhibiting improper door sealing, door sagging or a failure to open and close normally. If you see one of these conditions, immediately contact Viking using the phone number below. Viking will repair all refrigerators subject to the recall at no charge to consumers.
PLEASE FOLLOW THESE STEPS IN ORDER TO DETERMINE WHETHER YOUR REFRIGERATOR IS SUBJECT TO THE RECALL:
Please locate the label containing the model and serial number of your refrigerator which is located on the ceiling of the interior of the refrigerator.
If your model number is identified in the chart below, locate the first six numbers contained in the serial number.  The first six numbers contained in the serial number correspond to the manufacture date of the unit in [mm][dd][yy] format.

If the first six numbers contained in the serial number correspond to the dates identified in the chart below, your refrigerator is subject to the recall.


Model Numbers
Date of Manufacture **
VCBB363, VCBB536, VIBB363; VIBB536, VCBB5361
(Professional Series)
Units manufactured between 11/01/05 and 08/05/12
DDBB363, DDBB536, DTBB363, DFBB363, DFBB536, FDBB5361
(Designer Series)
Units manufactured between 11/01/05 and 08/10/12