Vegas Steakhouse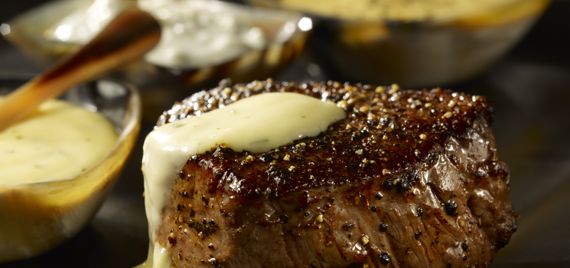 Las Vegas just may be the greatest restaurant city on the planet. With the greatest concentration of master chefs and master sommeliers in the world, it has been called "The New Mecca for Fine Dining." How many other cities can boast award-winning steakhouses from both iconic superstar chefs Emeril Lagasse and Mario Batali? Lagasse's Delmonico Steakhouse in The Venetian was one of the first great meat emporiums in Sin City. This James Beard Award-winning restaurant has been hailed "Best Steakhouse on The Strip." Batali's Carnevino at The Palazzo has also been dubbed "#1 Steakhouse in Vegas" and received the AAA 4 Diamond Award.. Enjoy actual recipes from both bastions of beef in this delectably carnivorous class.
SKILLS AND TECHNIQUES Pan-searing beef and testing for doneness; making assorted sauces; roasting mushrooms and peppers; making a gratin.
Adult classes are designed for students 16 years of age or older. (Note: Students must be 21 years of age to consume alcohol.)
Consuming raw or uncooked shellfish and meats may increase your risk of food-borne illness, especially if you have certain medical conditions.
Recipes:
Filet Mignon with Three Sauces: Black Pepper Horseradish Zabaglione, Porcini Béarnaise, and Gorgonzola Mascarpone
Roasted Shiitake Mushrooms
Guanciale Mashed Potatoes
Sample Recipes:
Caesar Salad
Peanut Butter Pie with Chocolate Sauce
Vegas Steakhouse :
Remaining Dates and Times in Greenwood, MS
Venues:
FAC = Viking Facility, D = Demo Theater, Bar = Bar, HO = Hands-on Kitchen, AS = Appliance Showroom, OG = Outdoor Grill, OS = Off Site, RF = Retail Floor, SK = Showcase Kitchen, TC = Training Center, WT = Wine Tasting Room