Lunch in Little Havana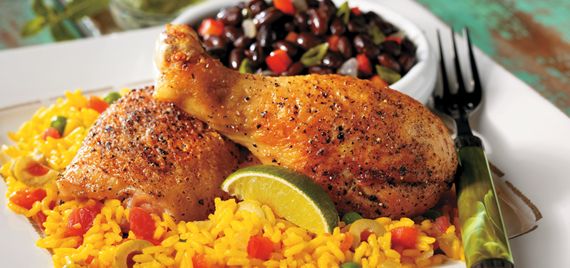 Little Havana, a muy caliente neighborhood in Miami, is the hotbed of Cuban culture in America. Cutting-edge art galleries and unique storefronts happily reside side-by-side with hand-rolled cigar shops and quaint Cuban restaurants. A rich and varied cuisine, Cuban food is a delightful mixture of Caribbean, Spanish and African influences. So mambo on over with "the girls" for the hottest cooking class in town!
SKILLS AND TECHNIQUES Making a vinaigrette; searing chicken; learning to balance flavors and season properly; making croutons; cooking rice; making sofrito.
Adult classes are designed for students 16 years of age or older. (Note: Students must be 21 years of age to consume alcohol.)



Consuming raw or uncooked shellfish and meats may increase your risk of food-borne illness, especially if you have certain medical conditions. 
Recipes:
Cuban Salad with Crunchy Croutons and Lemon Garlic Vinaigrette
Arroz Con Pollo (Chicken with Yellow Rice)
Cuban Black Beans
Tres Leches Cake (amazingly moist and decadent cake made with three milks)
Bonus Recipe:
Mojitos
Lunch in Little Havana :
Remaining Dates and Times in Greenwood, MS
Venues:
FAC = Viking Facility, D = Demo Theater, Bar = Bar, HO = Hands-on Kitchen, AS = Appliance Showroom, OG = Outdoor Grill, OS = Off Site, RF = Retail Floor, SK = Showcase Kitchen, TC = Training Center, WT = Wine Tasting Room