Dinner in Vegas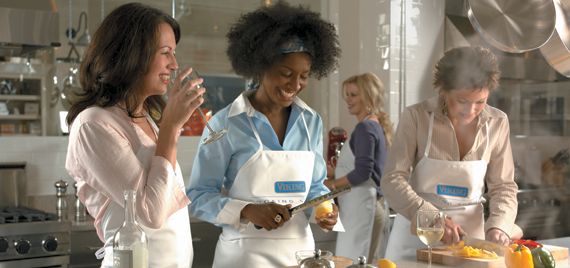 Known as "the entertainment capital of the world" where almost anything goes, there is no other city in the world like Las Vegas. Often referred to as "Sin City," Vegas has the finest gambling, nightclubs and non-stop partying in the country. But Vegas has also become a global gourmet mecca, where many of the country's most celebrated celebrity chefs have opened restaurants. So, gather your girlfriends and join us "in Vegas" for a menu featuring actual recipes from some of the city's finest restaurants.
Adult classes are designed for students 16 years of age or older. (Note: Students must be 21 years of age to consume alcohol.)
Consuming raw or uncooked shellfish and meats may increase your risk of food-borne illness, especially if you have certain medical conditions.
Recipes:
Emeril's New Orleans Barbecue Shrimp served with a Petite Rosemary Biscuit from Emeril's New Orleans Fish House at MGM Grand
Bobby Flay's Grilled Fennel-Spiced Pork Chops with Lemon-Sage Vinaigrette and Grilled Asparagus from Mesa Grill at Caesar's Palace
Stone-Ground Goat Cheese Grits from Commander's Palace at The Aladdin
Sample Recipe:
Charlie Palmer's Chocolate & Peanut Butter Ganache Tart from Aureole at Mandalay Bay
Bonus Recipe:
Emeril's Café Brűlot from Delmonico Steakhouse at The Venetian Resort Hotel & Casino
Dinner in Vegas :
Remaining Dates and Times in Greenwood, MS
Venues:
FAC = Viking Facility, D = Demo Theater, Bar = Bar, HO = Hands-on Kitchen, AS = Appliance Showroom, OG = Outdoor Grill, OS = Off Site, RF = Retail Floor, SK = Showcase Kitchen, TC = Training Center, WT = Wine Tasting Room