Champagne Brunch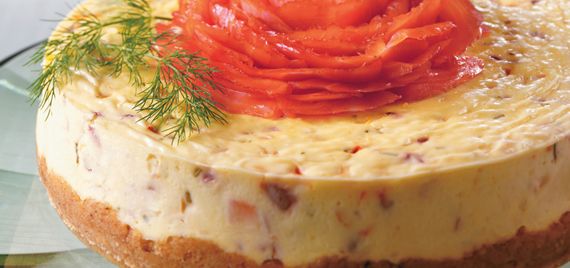 Prepare decadent dishes ahead of time for an elegant Champagne brunch. Our uniquely delicious do-ahead recipes are guaranteed crowd-pleasers, and the Smoked Salmon Cheesecake is an absolute show-stopper. After tasting these memorable dishes, people will be begging for the recipes. Perfect for holiday entertaining - or for any celebratory occasion!
SKILLS AND TECHNIQUES Making cheesecake custard; making a salmon "rose"; working with wild mushrooms and fresh asparagus; trimming, roasting and glazing pork; testing pork for doneness; carving pork; candying bacon; making the ultimate biscuit.
Adult classes are designed for students 16 years of age or older.

Consuming raw or uncooked shellfish and meats may increase your risk of food-borne illness, especially if you have certain medical conditions.
Recipes:
Sample: Smoked Salmon Cheesecake
Mushroom and Asparagus Strata
Rosemary Orange-Glazed Pork Tenderloin
Shirley's Feather-Light Biscuits
Spicy Brown Sugar Bacon
Mini Berry Crumb Cakes with Streusel Topping
Bonus Recipes:
Celebration Champagne Cocktails
Basil Balsamic Bloody Mary's
Champagne Brunch :
Remaining Dates and Times in Greenwood, MS
Venues:
FAC = Viking Facility, D = Demo Theater, Bar = Bar, HO = Hands-on Kitchen, AS = Appliance Showroom, OG = Outdoor Grill, OS = Off Site, RF = Retail Floor, SK = Showcase Kitchen, TC = Training Center, WT = Wine Tasting Room