Date Night: Culinary Escape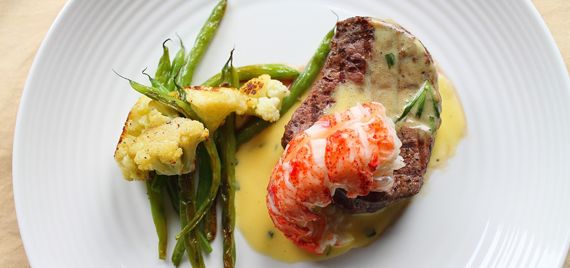 Surrender to indulgence and culinary discovery in our exquisite escape for couples. Savor exotic ingredients from far-away lands such as ruby red pomegranates and creamy grilled Halloumi. Then indulge in classical celebratory creations such as filet mignon, lobster bearnaise and baby shrimp cakes. It's a delicious way to spend the evening, pleasing your palate and expanding your culinary repertoire.
SKILLS AND TECHNIQUES: Making a vinaigrette; working with pomegranates; grilling cheese; making, shaping and pan-frying shrimp cakes; grilling filet mignon and testing for doneness; working with lobster tails; making a classical sauce; roasting crisp and tender potatoes.
Adult classes are designed for students 16 years of age or older.
Consuming raw or uncooked shellfish and meats may increase your risk of food-borne illness, especially if you have certain medical conditions.
This class is currently not available at this location. Please check our calendar for available class offerings.
Or check out these classes: