Southern Italian Dinner Party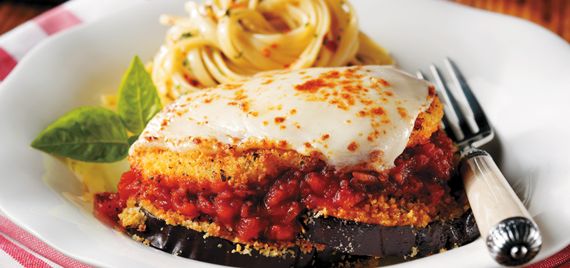 The cuisine of Southern Italy is bolder and more down-to-earth in flavor than its more refined northern counterpart. Foods are lovingly prepared, and great pride is taken in serving people with warm, generous hospitality. Learn to prepare some of the classic dishes from this charming region of Italy in this deliciously inviting workshop.
SKILLS AND TECHNIQUES: Making a classic Southern Italian soup; making tender meatballs, creating a crisp breaded crust; sauteing chicken; working with eggplant; making and glazing individual cakes.
Adult classes are designed for students 16 years of age or older. (Note: Students must be 21 years of age to consume alcohol.)

Consuming raw or uncooked shellfish and meats may increase your risk of food-borne illness, especially if you have certain medical conditions.
Recipes:
Italian Wedding Soup (wildly popular soup made with baby meatballs and orzo)
Grandma Rosabella's Chicken Parmesan
Pasta Aglio e Olio (with garlic and olive oil)
Limoncello Almond Baci (Kiss) Cake
Sample Recipes:
Olives Soffritte with Pecorino
Insalata Verde
Southern Italian Dinner Party :
Remaining Dates and Times in Greenwood, MS
Venues:
FAC = Viking Facility, D = Demo Theater, Bar = Bar, HO = Hands-on Kitchen, AS = Appliance Showroom, OG = Outdoor Grill, OS = Off Site, RF = Retail Floor, SK = Showcase Kitchen, TC = Training Center, WT = Wine Tasting Room