Date Night: Playing with Fire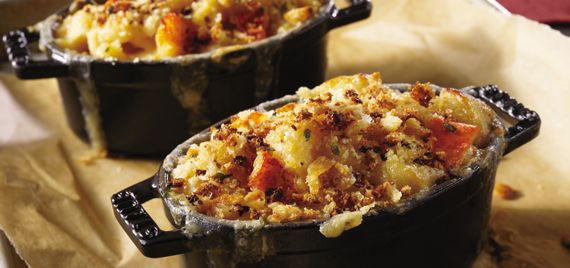 You can play with fire without getting burned at this show-stopping date night dinner. Along with luscious lobster and smoky grilled asparagus, you'll learn to create flamb¿s with flair and biscuits that practically float in the air. Without a doubt, our romantic menu will ignite the flames of passion for food and fun with your special someone.
SKILLS AND TECHNIQUES Learning to flamb¿; cooking beef and testing for doneness; making a creamy cheese sauce; working with lobster; preparing the grill; grilling asparagus; making feather-light herb biscuits.
Pricing for date night classes are per person.
Adult classes are designed for students 16 years of age or older.
Consuming raw or uncooked shellfish and meats may increase your risk of food-borne illness, especially if you have certain medical conditions.
Recipes:
Steak Diane Flambé
Lobster Mac n' Brie Gratins
Grilled Asparagus
Petite Rosemary Cheese Biscuits
Sample Recipes:
Crostini with Fresh Figs, Ricotta, Prosciutto and Arugula
Double Chocolate Kahlua Cheesecake with Salted Caramel
Date Night: Playing with Fire :
Remaining Dates and Times in Greenwood, MS
Venues:
FAC = Viking Facility, D = Demo Theater, Bar = Bar, HO = Hands-on Kitchen, AS = Appliance Showroom, OG = Outdoor Grill, OS = Off Site, RF = Retail Floor, SK = Showcase Kitchen, TC = Training Center, WT = Wine Tasting Room