by Karin Calloway


Exotic mushrooms are trendy at the moment – from giant or baby portabellas, to shitake, enoki, cremini, morel, porcini and oyster. But give me a plain old white button mushroom stuffed with a gooey cheese filling over these exotic varieties any day.

My recipe for Stuffed Shrooms is a snap to prepare, and the resulting appetizers are a favorite at any party. They're also great served alongside a grilled steak. These can be made a day ahead, and it seems that no matter how many I make, they disappear quickly.


4 slices thick-cut bacon, cooked, drained and crumbled
24 large white button mushrooms, stems removed
2 cups shredded cheese (either a combination of sharp cheddar, Monterrey Jack and mozzarella or sharp cheddar alone)
2 tablespoons chopped fresh parsley
1 teaspoon Worcestershire sauce
1/2 cup regular or reduced-fat mayonnaise
Garlic salt
Preheat oven to 400 degrees F. Combine crumbled bacon, shredded cheese, parsley, Worcestershire sauce and mayonnaise in a medium bowl. Use a small cookie scoop to place the filling in the mushrooms. Bake for 15 minutes. Sprinkle with garlic salt before serving.



Makes 24 appetizers.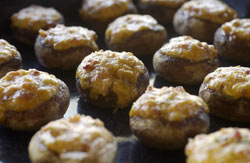 Related Recipe Categories
Appetizers