by Karin Calloway


If you're a fan of the flavor of almond you're going to love these luscious little almond cakes topped with vanilla ice cream and drizzled with luscious caramelized pears. In fact, for lovers of the combination of almond and pears, this could be considered the "perfect" dessert.

While I like to prepare individual cakes, you also can bake the batter in a standard pie plate or 10-inch tart pan and cut the cake into wedges for serving. This dense, buttery cake is good on its own, with a confection-like chewiness. It's also delicious topped with peach sorbet and drizzled with raspberry sauce for a twist on the classic Peach Melba.



Cakes




1 2/3 cups all-purpose flour
1 1/2 cups sugar
1/8 teaspoon salt
1 cup melted butter
2 eggs, beaten
2 tablespoons pure almond extract
Preheat oven to 350 degrees F. Combine all ingredients in a large bowl and beat until smooth. Divide batter among 6 individual (4-inch) tart pans with removable bottoms. Smooth out batter with a spatula and tap lightly on the counter to remove any air bubbles. Bake for 20 minutes, until a pick inserted in the center comes out clean. Remove from the pans while still warm and set aside until ready to serve.



Pears




4 firm, ripe pears, peeled, cored and cut into wedges
2 teaspoons lemon juice
3 tablespoons butter
4 tablespoons light brown sugar
1/4 cup slivered almonds, toasted
Combine pears and lemon juice in a mixing bowl. Heat a large nonstick skillet over high heat. Melt butter in the skillet. Add pears and cook, stirring occasionally, until golden brown around the edges, 3-4 minutes. Add brown sugar and almonds and cook, stirring occasionally, until pears are sauce and the juices and sugar have formed a syrup, about 2-3 minutes. Remove from heat.

To serve, place a cake in the center of a dinner plate. Top with a scoop of ice cream and drizzle with some of the pears and syrup.



Makes 6 servings.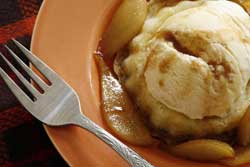 Related Menus


No Turkey Talk



Related Recipe Categories


Desserts




Related Products


No Turkey Talk
During the holidays, there's a lot of talk in the cooking world about turkey. In fact, at Viking headquarters our consumer hotlines are abuzz with consumer questions about roasting, grilling and smoking the perfect holiday bird.