by Karin Calloway


I've always been a fan of the wilted salads made of iceberg lettuce and warm sweet and sour dressing. The retro salad was a way to dress up mundane iceberg for family dinners at my house in the 60s. Wilted spinach salads are a more elegant rendition of the classic, and my Spinach Salad with Bacon-Wrapped Scallops and Sweet Bacon Vinaigrette brings the salad into the new millennium.

The vinaigrette begins by cooking thick-cut bacon slices until they're still pliable. The bacon is used to wrap sweet sea scallops, and some of the bacon drippings will flavor the vinaigrette. Thinly sliced red onion is sautéed in the reserved bacon drippings until wilted and slightly caramelized, making a more mellow presence than the traditional chopped red onion garnish.

The scallops are oven-seared, and are made flavorful with a hint of Teriyaki baste and glaze, a product you'll find in the Asian ingredients section of most supermarkets. Any Asian-inspired thick soy-based glaze can be used.

The combination of the spinach tossed in the warm Sweet Bacon Vinaigrette and the sweet and salty Bacon-Wrapped Scallops make this salad company-worthy. Serve as the first course for a spring dinner party, or as a lovely spring luncheon salad.



Sweet Bacon Vinaigrette




9 slices thick-cut bacon
1/2 small red onion, very thinly sliced
1 tablespoon olive or vegetable oil
1/2 cup sherry vinegar
1 tablespoon Dijon mustard
1 tablespoon light brown sugar
1/2 teaspoon sea salt
Freshly ground black pepper, to taste
Fry bacon in a medium skillet until it releases most of its fat, but is still pliable. Remove bacon from skillet and set aside to drain on a paper towel-lined plate. Remove all but 2 tablespoons of the bacon drippings from the skillet. Heat remaining drippings over medium-high heat and add sliced onion and sauté until tender, about 5 minutes. Whisk in remaining ingredients and adjust salt and pepper to taste. Set aside at room temperature until ready to use.



Bacon Wrapped Scallops




18 medium sea scallops, about 1 pound
Reserved bacon from the vinaigrette
Prepared Teriyaki baste and glaze* (about 1/3 cup)
18 Toothpicks
Preheat oven to 400 degrees F. Cut reserved bacon strips in half. Wrap each scallop with a piece of bacon and secure with a toothpick. Brush both sides of scallops with Teriyaki baste and glaze and place on a foil or silicone mat-lined baking sheet. Bake 10 to 15 minutes. (Scallops also can be grilled for 5 minutes per side.)



Spinach Salad




1 10-ounce bag triple-washed baby spinach
Place spinach in a large salad bowl. Pour 3/4 of the dressing over the spinach and toss well. Taste, and season with sea salt or freshly ground black pepper (if needed) and toss again. Divide salad among 6 dinner plates. Top each serving with 3 scallops and serve.

Makes 6 servings.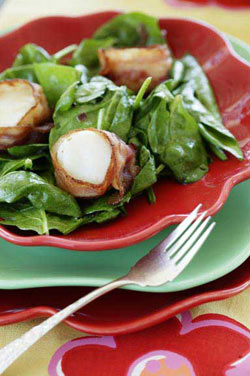 Related Menus


Signs of Spring Dinner for Six



Related Recipe Categories


Soups and Salads




Related Products


A Taste for Thai
The cuisine of Thailand, with its combinations of sweet, salty, tart and spicy flavors, is an American restaurant favorite. But supermarkets everywhere carry most of the ingredients you need to create a delicious Thai menu at home.