by Karin Calloway



Lately I've been on a quest to use what I have on hand in my freezer. I quite possibly could feed my family and three others for a week (probably much longer) just from there. I am not joking.

It's not like I "buy in bulk," but it is the nature of my job. I freeze photo shoot food for meals later on...then forget I froze them. Or, I'll buy a package of this or that (chicken breasts, wings, pork tenderloins, etc.) use some, freeze the rest and again forget I froze them.

Hey, I have a busy life!

When I discovered a big package of chicken wings in the back of the freezer recently (we frozen them when we decided we'd bought too many wings for our Super Bowl party), I decided to use them in a simple recipe for Sherried Drumettes.

The recipe is from Second Round, Tea-Time at the Masters. What I love about the recipe is that the wings are baked, not fried. They bake for a long time (two hours) in a really delicious Asian-ish combination of ingredients. My kids loved them when they were young, and they really love them as teens.
I don't necessarily follow the original directions, though. The recipe calls for marinating the wings and then discarding the marinade. I just combine the wings and marinade in a baking dish and pop it in the oven. I'm sharing my adapted recipe here.

I served these right after I made them this time, but in the past I've cooled them and reheated them on the grill, discarding the remaining juices. This is great if you're tailgating or wish to plan ahead when entertaining. You just throw the wings on the grill to warm them through on each side and they're ready to enjoy.

Since I'm a past-president of the publisher of the Junior League of Augusta, I have permission to reprint the recipe. If you're interested in the book, you can go to their Web site by clicking HERE. This is one of the cookbooks I turn to often for really good, well-tested recipes.

Sherried Drumettes


2 pounds chicken wings, disjointed and tips discarded
1/4 cup vinegar (I use cider vinegar)
1/2 cup soy sauce
1/2 cup sherry
3 teaspoons Tabasco
Pepper to taste

Preheat oven to 300 degrees. Arrange drumettes in a 9-by-13-inch baking dish.

Combine vinegar, soy sauce, sherry, Tabasco and pepper and pour over the wings. Bake chicken for 1 hour. turn and bake for 1 hour more. Serve immediately or remove the wings from the sauce and cool. Place in a container or plastic bag and refrigerate. Reheat on the grill when ready to serve.



The recipe says it makes 10 servings, but if you're serving it to teenagers for dinner it probably makes 3-4 servings.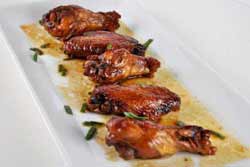 Related Recipe Categories
Appetizers