by Karin Calloway


When strawberries are in season, this is creamy dressing is my favorite way to dress crispy spring salad greens. And, the dressing is very easy to whip up with my Viking blender. Sour cream, mayonnaise, raspberry or other fruit vinegar, a chopped shallot and some fresh sliced strawberries are pureed in the blender until smooth. When strawberries are out of season, simply substitute fresh raspberries.

The dressing is wonderful atop the spring greens topped with more sliced strawberries and pistachios. For a heartier salad, you can add grilled chicken strips. To enhance the strawberry flavor, baste the boneless, skinless chicken breast halves with a strawberry preserves during the last few minutes on the grill. Then, cut the chicken into thin strips and place atop the salad.



Dressing




1 cup sour cream
1 cup mayonnaise
1/4 cup raspberry or other fruit vinegar
1 medium shallot, finely chopped
5 fresh, ripe strawberries, washed, dried, cored and sliced
Sea salt and freshly ground black pepper, to taste

Blend all ingredients in a food processor or blender. Season to taste with salt and pepper. Pour into a container with a tight fitting lid and refrigerate until ready to serve.



Salad




6 handfuls spring salad mix
6 tablespoons peeled, salted and roasted pistachios
1 pint fresh strawberries, washed and sliced
Divide the salad mix among 6 salad plates. Drizzle each salad with some of the dressing and sprinkle with the pistachios and strawberries.



Makes 6 servings.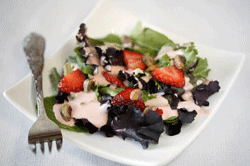 Related Menus


Spring Chicken



Related Recipe Categories


Soups and Salads




Related Products


Spring Chicken
Visit the produce section of almost any supermarket during April and the signs of spring are evident. There are plump strawberries from Florida and California and in-season bright green asparagus.