by Karin Calloway


Spinach, lemon and feta are a common Greek combination. Add some orzo pasta and fresh herbs and you've got a dish that's the perfect accompaniment to grilled lamb chops or served on its own as a Greek-inspired meatless entrée.

Orzo pasta is treated much like rice in this pilaf, as it is sautéed first in a flavor base of olive oil, onions and garlic. Chicken broth and lemon juice are added and the orzo cooks until tender. Chopped baby spinach, fresh dill, mint and a sprinkling of feta cheese complete the dish that is great served hot, at room temperature or even cold.


3 tablespoons olive oil
1/2 large yellow onion, minced
4 scallions, minced
1 teaspoon minced garlic, about 1 clove
2 cups dry orzo pasta
Sea salt and freshly ground black pepper, to taste
4 cups of reduced sodium chicken broth
Juice and zest of one lemon
1 6-ounce bag fresh baby spinach, washed, dried and finely chopped
1/2 cup chopped fresh dill weed
1/2 cup chopped fresh mint leaves
1/2 cup crumbled feta cheese, optional
Heat olive oil in a large skillet and sauté the onions, scallions and garlic. Add orzo and sauté, for 3 to 4 minutes. Season with salt and pepper to taste.

Stir in chicken broth and lemon juice, bring to a boil, cover and simmer for 10 minutes, until pasta is almost done. Stir in spinach, a little at a time, adding more as the spinach wilts. Simmer for 5 minutes, until orzo is done. Stir in the dill and mint and sprinkle with the feta before serving.



Makes 6-8 servings.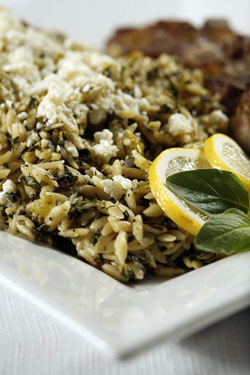 Related Menus
Greek Inspired
Related Recipe Categories
Vegetables and Sides
Related Products
Chef's Knives - VCSR

This ultra premium cutlery is handcrafted in Solingen, Germany using old world standards. One piece forged construction of the optimum combination of high carbon - chromium - vanadium stainless steel provides for an easy to sharpen and long lasting edge.
This product is currently on backorder.
Saute Pans

Viking Professional Cookware products are manufactured with exclusive Multi-Ply construction. Multi-Ply construction is a specially designed combination of stainless steel and aluminum alloys for lifetime performance, durability with easy cleanup, quick and even heat distribution.
The ergonomic stainless steel handle, a Viking Design exclusive, provides maximum comfort and secure handling. Designed in the USA, made in Belgium.
3 qt. Sauce Pan is currently on backorder.