by Karin Calloway


Almost every culinary tradition has a "hand pie." There are pasties in Great Britain, empanadas in Spain, and calzones in Italy. In India, there are samosas, yummy little hand pies of tender dough filled with potatoes and other ingredients.

Making samosas at home can be a bit of a chore, but there are several shortcuts that can be taken to make them more accessible to the home cook. First, somosas can be baked rather than fried, decreasing the mess and the amount of fat. And, second, while I've included a recipe for the samosa dough here, you can substitute frozen, defrosted samosa wrappers for the homemade dough in the recipe, making these easy enough for weeknight family fare.

The filling here is a combination of potatoes, peas and spices, but you can add cooked ground beef, lamb or chicken to make a non-vegetarian version. A cooling Cucumber Raita is the perfect accompaniment.



Dough




4 cups all-purpose flour, plus additional to make a stiff dough
1 teaspoon salt
3/4 cup margarine, softened
1/2 cup water
Stir flour and salt together in a bowl. Cut margarine into flour until it resembles coarse crumbs. Stir in water, a little at a time, and knead dough into a smooth ball. Cover with a damp cloth and set aside while you make the filling.



Filling




3 small white potatoes, peeled and diced
1 tablespoon ghee, butter or vegetable oil
2 teaspoons mustard seeds
1 cup frozen green peas
Salt, to taste
1 teaspoon garam masala
Bring a pot of water to a boil and add potatoes. Boil until potatoes are almost tender, about 6 minutes. Drain and set aside. Heat ghee, butter, or oil in a skillet and add mustard seeds, potatoes, peas and salt. Cook, stirring, over medium heat, for 2 minutes. Cover the pan, reduce heat to low and cook for 10 minutes. Remove from heat and stir in the garam masala. Set aside to cool.



To Assemble and Bake




1 egg, beaten, mixed with 1 tablespoon water
Chutney and Cucumber Raita (see recipe below), for serving
Position a rack in the center of the oven and preheat to 350 degrees F. Line a large baking sheet with parchment paper or a silicone mat. Divide dough into 12 equal portions. Roll each ball of dough to a 7-inch circle on a lightly floured surface, rolling from the middle toward the edge. (For smaller samosas, cut each circle in half before filling.)

Distribute filling evenly among circles, about 3 heaping tablespoons for each one. Lightly moisten the edge of each circle with water and fold over to form a semicircle. Press edges together firmly with the tines of a fork. Place samosas on the baking sheet and brush tops with the egg glaze. Bake for 15 minutes, or until they are golden brown. Serve hot from the oven.



Makes 12 servings

.



Cucumber Raita




1 small pickling cucumber or 1/2 English cucumber, peeled, seeded and grated
1 cup plain yogurt
6 scallions, washed, dried and finely chopped
1/2 jalapeno pepper, seeded and finely chopped
Salt
Combine all ingredients in a bowl. Season to taste with salt. Cover and refrigerate until ready to serve.



Makes 1 1/2 cups Raita.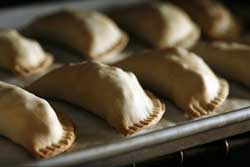 Related Menus


Curry Scented



Related Recipe Categories


Appetizers




Related Products


Curry Scented
The flavors of India are not as well known in the United States as they are in Great Britain, where enjoying a "curry" is as simple as heading up the street in small towns and large cities alike.