by Karin Calloway


Most curries from India are served with a starch – some puffy naan bread or aromatic basmati rice. Naan bread is fun to make at home, but the dough usually needs to be made three hours ahead, requiring a bit more forethought than weeknight family meals allow.

So, save the naan bread for a weekend Indian feast and serve your weeknight curries over Spiced Basmati Rice. The rice is scented with cumin seeds, pepper corns, cinnamon, cardamom and bay. It's a simple, fragrant cooked rice that goes well with almost all Indian entrees and is ready to serve in just 20 minutes.


1 1/2 cups basmati rice
1/2 teaspoon cumin seeds
6 black peppercorns
1/2-inch piece of cinnamon stick
3 whole green cardamom pods, lightly crushed
2 bay leaves
1 teaspoon salt
3 cups water
Combine rice and spices in a medium saucepan with a tight-fitting lid. Add water, stir and bring to a boil over medium-high heat. Reduce heat to low, cover and cook for 20 minutes. Fluff with a fork before serving.



Makes 6-8 servings.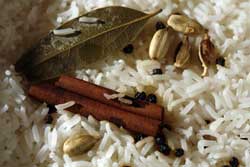 Related Menus
Curry Scented
Related Recipe Categories
Vegetables and Sides
Related Products
7-Ply Sauce Pans

Viking Professional Cookware products are manufactured with exclusive Multi-Ply construction. Multi-Ply construction is a specially designed combination of stainless steel and aluminum alloys for lifetime performance, durability with easy cleanup, quick and even heat distribution.

The ergonomic stainless steel handle, a Viking Design exclusive, provides maximum comfort and secure handling. Designed in the USA, made in Belgium.
2 qt. and 3 qt. sauce pans are currently on backorder.