by Karin Calloway


Learning that fish can be roasted in a hot oven is often an epiphany for home cooks who are intimidated by the prospect of cooking fish. The simple equation of a 450 degree oven and 10 minutes per inch of thickness makes turning out perfectly cooked fish at home a breeze.

While the roasted fish is delicious with just a sprinkling of sea salt and a grinding of black pepper, the options for saucing your roasted fish are almost limitless. Here, I've recreated a tangy vinaigrette I sampled in a restaurant to add a flavor punch to the fish. The fish can be served atop White Bean and Butternut Squash Ragout (recipe on this site) or with roasted new potatoes and sautéed spinach.



Rosemary Vinaigrette




3 tablespoons Worcestershire sauce
3 tablespoons balsamic vinegar
3 tablespoons soy sauce
3 tablespoons whole-grain mustard
3 tablespoons brown sugar
1 teaspoon finely chopped fresh rosemary
1 teaspoon sea or kosher salt
1 teaspoon freshly ground black pepper
1/4 cup extra virgin olive oil
Mix Worcestershire, vinegar, soy sauce, mustard, sugar, rosemary, salt and pepper together in a medium bowl. Gradually whisk in the olive oil



Halibut




2 tablespoons olive oil
6 skinless halibut fillets, 6-7 ounces each
Flaked sea or kosher salt
Freshly ground black pepper
Arrange a rack in the center of the oven and preheat to 450 degrees F. Line a baking sheet with parchment paper and place halibut fillets on the paper. Brush each fillet with oil and sprinkle with salt and pepper. Bake for 10-12 minutes depending on the thickness of the fillets.

Place fillets on dinner plates. Whisk the vinaigrette and drizzle some over each fillet. Serve immediately.



Makes 6 servings.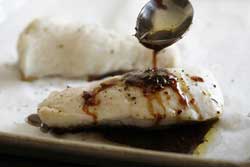 Related Menus


No Turkey Talk



Related Recipe Categories


Main Dishes




Related Products


No Turkey Talk
During the holidays, there's a lot of talk in the cooking world about turkey. In fact, at Viking headquarters our consumer hotlines are abuzz with consumer questions about roasting, grilling and smoking the perfect holiday bird.