by Karin Calloway


If you thought most persimmons were too bitter to eat, you haven't had a perfectly ripe and wonderfully sweet persimmon. Neither had I, until a recent trip to San Francisco's Saturday farmer's market at the Ferry Building. This bustling, mostly organic market was packed with vendors selling this often misunderstood fruit, and throughout the city restaurant menus highlighted the season's fresh, sweet persimmons.

Here's they're tossed in a salad with crisp winter greens, dates, spiced walnuts and a simple sherry vinaigrette. When persimmons are out of season, substitute your favorite seasonal fruits including strawberries, peaches, apples and pears.



Walnuts




2 tablespoons butter
2 tablespoons water
1/4 cup packed brown sugar
1/2 teaspoon salt
1 teaspoon ground ginger
1/2 teaspoon cayenne pepper
1/2 teaspoon ground cardamom
Pinch of freshly ground nutmeg
1 cup walnut halves
Preheat oven to 350 degrees F. Line a baking sheet with a silicone mat or parchment paper. Melt butter in a medium skillet over medium-high heat. Add water, brown sugar, salt and spices and stir until sugar dissolves and the mixture comes to a boil. Add nuts and cook, stirring constantly, for about 5 minutes. Spread nuts and caramel on the prepared baking sheet and bake for 10 minutes. Set aside to cool. (Walnuts can be made ahead, cooled and stored in a container with a tight-fitting lid.)



Salad




6 cups winter salad greens such as Arugula and endive, or 2 bags spring salad mix, washed and dried
3 tablespoons sherry vinegar
7 tablespoons extra virgin olive oil
Salt and freshly ground black pepper, to taste
3 ripe persimmons, cut into quarter-sized pieces
1 cup whole dates, cut into small pieces
1 cup shredded dry Jack or Asiago cheese
Place greens in a large salad bowl. Whisk vinegar and oil together in a bowl and season to taste with salt and pepper. Drizzle some of the dressing over the greens. Toss well and taste for seasoning. Add more dressing or salt and pepper, if needed. Divide greens among 6 salad plates. Top each salad with some of the persimmons, dates and pecans and sprinkle with cheese. Grind a little black pepper over the top and serve.



Makes 6 servings.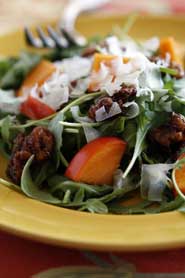 Related Menus


Hearty Chili Supper



Related Recipe Categories


Soups and Salads




Related Products


French Accent
French cuisine has a reputation for being sauce-laden, pastry wrapped and hyper-indulgent. And while most French chefs don't scrimp on butter or cream, there's a whole lot more than these high-fat ingredients in French cooking.