by Karin Calloway


We are big chicken wing fans at my house, and my husband is usually in charge of firing up the outdoor cooker and frying up some classic Buffalo wings. Recently, I've taken over the wings and have come up with several varieties that require no frying and meet another criterion: They can be made ahead and reheated on the grill or in the oven.

These Spicy Southwestern Chicken Wings are flavor-packed. While the list of ingredients is long, the steps are all simple and there are a few shortcuts which can be taken. First, substitute prepared Southwestern seasonings (such as Emeril's) for the spices listed in the recipe, substitute store-bought barbecue sauce for the homemade and stir in a little chile powder and two finely chopped chipotle peppers. For the dipping sauce, pick up your favorite ranch dressing and stir in one clove of minced garlic and some chopped fresh cilantro.

While shortcuts abound, the recipe is definitely worth making as written. Serve it up at your next casual winter party or at a tailgate event during football season. Those who like things spicy will give you rave reviews.


3 pounds chicken wings, cut at the joint, tips reserved for making stock
1/4 cup olive oil
2 tablespoons paprika
1 teaspoon cayenne pepper
1 teaspoon sea salt
1 teaspoon ground white pepper
1 tablespoon ground black pepper
1 tablespoon garlic powder
1 tablespoon chile powder
1 tablespoon oregano
Chopped fresh cilantro, for garnish, if desired
Preheat oven to 350 degrees F. Combine oil and spices in a large zip-top plastic bag. Squeeze well to combine. Add chicken wings, close the bag and squeeze to coat chicken evenly. Place wings on a large baking pan and bake for 30 minutes. Turn and bake for 15 minutes more. (Can be made ahead at this point, cooled, covered and refrigerated to be reheated on the grill later.)

Before serving, preheat grill. When hot, grill wings until heated through, turning continually, about 4 minutes. Place wings in a large bowl and toss with the sauce. Sprinkle with chopped cilantro and serve with the Chipotle Ranch for dipping.



Chipotle Barbecue Sauce




2 tablespoons olive oil
1/2 onion, peeled and chopped
2 tablespoons minced garlic, about 5 large cloves
1 teaspoon ground cumin
1 tablespoon chile powder
1/3 cup cider vinegar
1 cup ketchup
3/4 cup brown sugar
3 tablespoons soy sauce
2 tablespoons Worcestershire sauce
2 chipotle peppers, finely chopped or pureed in a small food processor
Heat oil in a saucepan over medium-high heat. Add onions, garlic, cumin and chile powder and cook until onions are soft, about 5 minutes. Add vinegar and stir, scraping up any browned bits in the bottom of the pan. Add remaining ingredients and simmer until slightly thickened. Puree using an immersion blender, pour into a plastic container with a tight-fitting lid and refrigerate until ready to use. (Can be made 3 days ahead. Reheat the sauce before tossing with the hot wings.)



Cilantro Ranch




1/2 cup buttermilk
3/4 cup mayonnaise
1 tablespoon lime juice
1 tablespoon minced fresh cilantro
1 green onion, chopped
1 teaspoons minced garlic (about 1 large clove)
Sea salt and freshly ground black pepper, to taste
Combine all ingredients in a bowl. Whisk until smooth. Cover and refrigerate until ready to serve. (Note: Can be made three days ahead. Flavor improves if made at least one day ahead.)



Makes 6 to 8 servings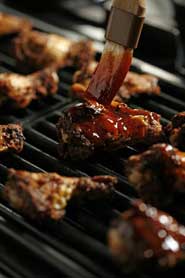 Related Menus


Hearty Chili Supper



Related Recipe Categories


Appetizers




Related Products


Hearty Chili Supper
January means a chill in the air throughout most of the U.S., and there's also a bit of a lull in most social calendars. It is a nice, quiet month, making it the perfect time to invite friends over for a casual supper at home.