by Karin Calloway


Some people love garlic, others don't. But few would pass on a creamy bowl of this delicious Garlic Soup. Yes, two cups of garlic is a lot. But the flavor of the garlic mellows as it simmers with leeks, onion and chicken broth. A bouquet garni (a little bunch of parsley stems, thyme and bay leaves tied together with butcher's twine) gives the soup an herbal aroma and the surprising addition of French bread thickens the soup nicely. While the recipe calls for a cup of whipping cream or half and half, the dairy products can be omitted completely for a lighter version.

If your supermarket sells jars of peeled garlic cloves, this is a great place to use them. The purchase will save you the step of peeling seven or eight bulbs of fresh garlic. Serve the soup as a first course for a French menu or with a tossed salad and crusty bread for lunch or supper.


2 tablespoons butter
2 tablespoons olive oil
2 leeks (white and light green parts only), trimmed and sliced, about 2 cups
2 large yellow onions, peeled and chopped
2 cups garlic cloves, peeled and chopped (about 7 bulbs)
6 cups chicken broth
1 bouquet garni (parsley stems, thyme sprigs and bay leaf tied together)
2 cups stale French bread, cut into 1⁄2 inch pieces
2 tablespoons chopped fresh parsley
1 cup whipping cream or half and half
Salt and freshly ground black pepper
Melt 2 tablespoons of the butter in a Dutch oven over medium-high heat. Add the leeks, onions and garlic and sauté until golden, about 20 minutes. Add the chicken broth, bouquet garni and bread. Bring to a boil, reduce heat and simmer, covered, for 10 minutes.

Remove the bouquet garni and puree soup with an immersion blender until smooth. Add the cream and heat to boiling. Stir in the parsley and season to taste with salt and pepper.



Makes 6-8 servings.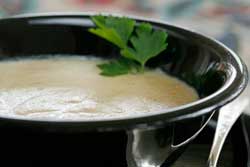 Related Menus


French Accent



Related Recipe Categories


Soups and Salads




Related Products


French Accent
French cuisine has a reputation for being sauce-laden, pastry wrapped and hyper-indulgent. And while most French chefs don't scrimp on butter or cream, there's a whole lot more than these high-fat ingredients in French cooking.