by Karin Calloway


When looking for an accompaniment for roasted fish, leave the garlic mashed potatoes off the menu and consider legumes instead. The combination is not only healthful, but hearty and delicious.

This Lentil Ragout is perfect under some Pan-Roasted Salmon (see recipe on this site) or makes a delicious vegetarian entrée served with a tossed salad. The ragout can be made ahead, and the flavors actually improve. The ragout also freezes beautifully, so make a big batch and freeze extras for another meal.

Use French green lentils in the recipe if you can find them. Otherwise, use brown lentils from the supermarket and leave out the step of soaking the legumes overnight.



1 pound French green (de Puy) lentils, soaked overnight in cold water, drained, and rinsed
1 carrot, peeled and cut into 3 large pieces
1 rib celery, cut in half
1 onion, peeled and halved
4 garlic cloves, peeled
2 fresh or dried bay leaves
4 sprigs fresh thyme
2 tablespoons chopped fresh parsley
Salt and freshly ground black pepper, to taste
3-4 cups chicken broth
1/2 cup sherry or balsamic vinegar
1 cup very finely chopped onion
1 cup very finely chopped carrot
1/2 cup very finely chopped celery
2 tablespoons butter
Place lentils in a pot and cover with chicken stock by an inch. Bring to a boil, reduce heat to medium-low. Add carrots, celery, onions, garlic, bay, thyme and salt. Cook until tender, about 30-45 minutes. Remove from heat, and remove carrots, celery, onion, garlic, bay and thyme. Stir in vinegar and parsley, and season to taste with salt and pepper. Keep warm.
Heat 2 tablespoons of butter over medium heat and add the chopped onion, carrots and celery, and sauté until tender. Stir into lentils.
Makes 6-8 servings.
*Standard supermarket brown lentils may be used instead of the French green lentils but require no overnight soak.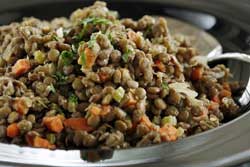 Related Menus
French Accent
Related Recipe Categories
Vegetables and Sides
Related Products
Chef's Knives - VCSR

This ultra premium cutlery is handcrafted in Solingen, Germany using old world standards. One piece forged construction of the optimum combination of high carbon - chromium - vanadium stainless steel provides for an easy to sharpen and long lasting edge.
This product is currently on backorder.
7-Ply Sauce Pans

Viking Professional Cookware products are manufactured with exclusive Multi-Ply construction. Multi-Ply construction is a specially designed combination of stainless steel and aluminum alloys for lifetime performance, durability with easy cleanup, quick and even heat distribution.

The ergonomic stainless steel handle, a Viking Design exclusive, provides maximum comfort and secure handling. Designed in the USA, made in Belgium.
2 qt. and 3 qt. sauce pans are currently on backorder.