by Karin Calloway


Pink, fresh shrimp and crunchy celery sauced with a creamy dressing. Shrimp Remoulade is as simple as tossing together these ingredients and the resulting dish is as versatile as it is delicious.

My version is colorful from chopped fresh parsley and piquant from prepared horseradish. It's delicious served with toothpicks as part of an appetizer buffet, served over mixed greens as a first course salad, or served atop fried green tomatoes as a tasty Southern-style luncheon dish.


2 pounds shrimp, peeled and deveined
1 cup mayonnaise
1/2 cup celery, chopped
1/4 cup parsley, chopped
1/4 cup prepared horseradish
2 tablespoons fresh lemon juice
2 tablespoons Creole or whole grain mustard
3 tablespoons ketchup
2 tablespoons Worcestershire sauce
Dash Tabasco sauce, or more to taste
Lettuce leaves, to line the serving platter or plates
Cook shrimp. Combine all ingredients except shrimp in bowl and add the shrimp. Stir to coat shrimp. Serve over the lettuce leaves.



Makes 8 servings.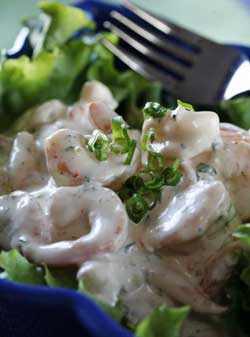 Related Menus


Ragin' Cajun



Related Recipe Categories


Appetizers




Related Products


Spring Sensations
When the urge to entertain hits you this season, invite friends over for a delicious meal in which supermarket shortcuts net gourmet appeal.