by Karin Calloway


Dessert is often a quandary at parties in which heavy hors d'oeuvres are served, since opting for a classic dessert requires plates and forks or spoons. So it's good to have a few recipes for pick-up sweets in your repertoire. These Lemon-Pecan Tassies fill the bill. They're pretty and not too sweet.



Shells




1/4 cup (1/2 stick) butter, cut into small pieces
1 cup flour
1/4cup sugar
1 egg
1/2 cup pecans, chopped or halves
Preheat oven to 375 degrees F. Combine all ingredients except pecans in the bowl of a food processor fitted with a metal blade. Pulse until well combined. Add pecans and pulse until chopped and incorporated. Divide dough among mini muffin tins for 24 tart shells. Bake for 10 to 12 minutes, until golden.



Lemon Filling




1 teaspoon unflavored gelatin
1 tablespoon cold water
1/2 cup sugar
2 eggs
Zest of 1 lemon
1/4 cup fresh lemon juice
2 tablespoons butter
Whisk gelatin and cold water together in a small bowl. Pour into a medium saucepan. Beat eggs and sugar together in a bowl and add to the gelatin mixture. Bring to a boil over medium heat, stirring constantly. Simmer for 10 minutes, until thick. Remove from heat and stir in the zest, juice and butter. Pour into the shells and refrigerate for 1 hour, until filling is set.



Makes 24 tartlets.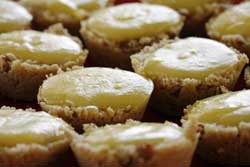 Related Menus


Great Grillin'



Related Recipe Categories


Desserts




Related Products


7-Ply Sauce Pans


Viking Professional Cookware products are manufactured with exclusive Multi-Ply construction. Multi-Ply construction is a specially designed combination of stainless steel and aluminum alloys for lifetime performance, durability with easy cleanup, quick and even heat distribution.

The ergonomic stainless steel handle, a Viking Design exclusive, provides maximum comfort and secure handling. Designed in the USA, made in Belgium.

2 qt. and 3 qt. sauce pans are currently on backorder.

30" Custom Sealed Burner Dual Fuel Range - VDSC
As every cook knows, perfection is a never-ending process. The dual fuel sealed burner range is proof of that. From the delicate VariSimmer™ setting to the 15,000 BTUs, available on all four burners, this is the most precise and powerful sealed burner system available. The redesigned range also offers the largest oven capacity and one of the fastest preheat times on the market.