by Karin Calloway


The combination of savory vegetables like eggplant and onion with tangy olives and capers, sweet golden raisins and crunchy pine nuts is what makes caponata so delicious. Increase the flavor by grilling the eggplant and onion and you've taken something good and made it great.

Caponata is the perfect topping for grilled bread – called bruschetta. But it's also delicious served over grilled chicken or fish. Leftover chilled caponata makes a flavorful addition to a big tossed salad.


1 medium eggplant, cut into 1/2-inch slices
1 large red onion, peeled and cut into 1/2-inch slices
Olive oil for brushing the vegetables, plus 1/2 cup olive oil for the dressing
Sea salt and freshly ground black pepper
1/2 cup Spanish olives, chopped
3 tablespoons capers, drained
1/2 cup golden raisins
1/4 cup toasted pine nuts
1 tablespoon minced garlic, about 3 medium cloves
Pinch red pepper flakes
1/4 cup sherry or red wine vinegar
1 tablespoon honey
1/2 cup chopped fresh parsley
Grilled baguette slices, for serving
Preheat indoor or outdoor gas grill on high for five minutes. Brush eggplant and onion slices with olive oil and season with salt and pepper. Grill eggplant for 6 to 8 minutes per side until golden brown and cooked through. Grill onions for 3 to 4 minutes per side until golden brown and just cooked through.

Remove vegetables from grill and set aside until cool enough to dice. Dice vegetables and place them in a medium bowl. Add olives, capers, raisins and pine nuts.

Whisk garlic, red pepper flakes, vinegar, and honey in a small bowl. Slowly whisk in 1/2 cup olive oil until emulsified. Pour dressing over vegetables, sprinkle with parsley and toss. Set aside at room temperature for 30 minutes before serving, to allow the flavors to blend. (Caponata can be made one day ahead, covered and refrigerated. Allow it to come to room temperature before serving.)



Makes 8-12 servings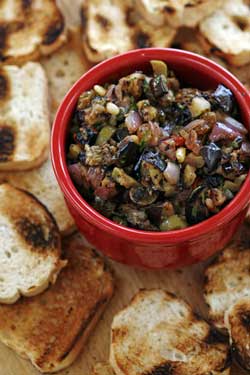 Related Menus


Great Grillin'



Related Recipe Categories


All
NOT TVL
Breads
The Viking Life




Related Products


Great Grillin' Menu
When the weather warms up it's time to fire up the grill, so this month we're sharing a menu of appetizers perfect for warm-weather entertaining.