by Karin Calloway


When my new Viking stand mixer arrived I immediately put it through a workout. How many egg whites would it beat to stiff-peak perfection? How big of a batch of cookie dough could it handle? Would a double batch of my favorite honey-wheat bread cause any strain on its motor?

The mixer passed each test with flying colors, and my family and others are now enjoying almost weekly loaves of wholesome, freshly baked bread. With a 1,000-watt motor and metal gear transmission, beating and then kneading the dough for the loaves can practically be completed while I go out to get the mail!

This bread is delicious hot out of the oven, spread with apple butter or jam, and stores well for several days in a zip-top plastic bag. The bread also freezes beautifully.


2 cups warm water (about 110 degrees)
1/3 cup honey
2 packages (1/4-ounce each) rapid rise yeast
1 tablespoon vegetable oil
3 cups bread flour*
3 cups whole wheat flour
1 tablespoon salt
Oil or butter, for coating the dough
Melted butter, for brushing the loaves
Place water and honey in the bowl of an electric stand mixer. Fit the mixer with the dough hook and beat the honey and water to combine. Add yeast and beat for 1 minute. Let rest until yeast is foamy, about 5 minutes.

Combine flours and salt in a large bowl. Add 1/2 of the flour mixture to the water and pulse the mixer to combine. Mix on low speed (setting 2 on Viking Stand Mixer) for 2 minutes, turn the mixer off and add the remaining flour mixture. Pulse several times, and then mix on medium (setting 6 on Viking) and beat until the dough comes together. Stop several times and scrape down the bowl and the dough hook with a rubber spatula. Knead the dough on medium speed (setting 6) until smooth and elastic. (The dough will be a bit sticky even when properly kneaded.)

Turn the dough out into a large bowl that has been coated with oil or butter, turn it over to cover it completely with the oil or butter, cover with plastic wrap and let rise until doubled, about 1 hour.

Butter two 8 1/4 x 4 1/2-inch loaf pans and set aside. Punch the dough to deflate it, then turn it out onto a floured cutting board or work surface. Divide in half. With one of the halves, pat or roll with a rolling pin to make a large (approximately 9x12-inch) rectangle. Roll the dough into a cylinder, starting at one of the short sides, and place in one of the prepared pans, seam-side down. Complete the process with the other half of the dough and brush the loaves with the melted butter. Cover with plastic wrap and let rise until doubled, about 1 hour.

Preheat oven to 375 degrees F. Bake the loaves for about 35 minutes, until golden. (An instant read thermometer inserted in the center of the bread should read 200 when the loaves are done.) Cool on racks.



Makes 2 loaves.



*Unbleached all-purpose flour can be substituted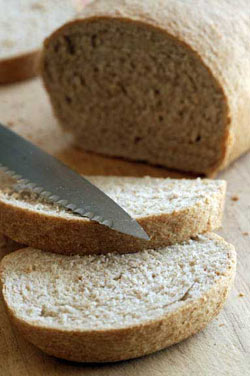 Related Recipe Categories
Breads