by Karin Calloway


Asian-inspired salads are available at restaurants of all varieties – from those with white tablecloths to those with drive-through windows. Bring the flavor home with this easy Chinese Chicken Salad. Whenever I serve this to guests or take it along to a get together with friends I'm asked to share the recipe. The combination of savory chicken, creamy dressing and crunch is sure to be a hit at your next summer picnic or salad supper.



Dressing




1 cup mayonnaise
1/2 cup hoisin sauce
2 tablespoon soy sauce
1/2 cup granulated sugar
1/2 cup sesame oil
1/2 cup red wine vinegar
Combine all ingredients in the bowl of a food processor fitted with a metal blade. Pulse until well blended. Scrape into a bowl, cover and chill until ready to serve.



Salad




Meat from 1 rotisserie chicken, shredded, about 3 cups
1 head iceberg lettuce, thinly shredded (or 2 packages prepared iceberg "shreds")
1 package shredded "angel hair" cabbage
4 green onions, sliced
1 16-ounce can mandarin oranges, drained
1 cup fried potato sticks
1 cup thin chow mien noodles
1/4 cup toasted sesame seeds
Place all of the salad ingredients in a large bowl. Toss with some of the dressing and sprinkle with the toasted sesame seeds.



Makes 10 servings.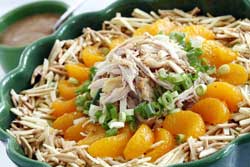 Related Menus


Sensational Salads



Related Recipe Categories


Soups and Salads




Related Products


Sensational Salads
A salad supper is perfect when entertaining during the summer months. Offer your guests something cool to drink and then impress them with a selection of flavorful salads from this month's easy menu.