by Karin Calloway


This salad combines creamy cannellini beans with crisp shrimp and peppery Arugula for a warm salad that's packed with flavor. Serve as a main dish salad or as an accompaniment to an entrée of grilled fish or chicken. The salad is a snap to prepare if you ask your fish monger to steam the shrimp, or if you have leftover grilled shrimp from a weekend cookout.


2 tablespoons olive oil
3 tablespoons chopped pancetta, optional
2 teaspoons garlic, about 3 cloves, chopped
3 16-ounce cans cannellini or other white beans, rinsed and drained
Sea salt and freshly ground black pepper, to taste
3 cups baby Arugula or baby spinach (about 1 5-ounce bag), washed and dried
30 large shrimp, about 1 1/2 pounds, cooked, peeled and deveined
1 lemon, cut into 8 wedges, optional
Heat olive oil in a large skillet over medium heat. Add pancetta and cook for 2 minutes. Add garlic and cook 1 minute more. Add beans, season with salt and pepper and heat thoroughly. Turn off heat and fold in the arugula and shrimp. Squeeze a lemon wedge over the top of each serving, if desired.



Makes 8-10 servings.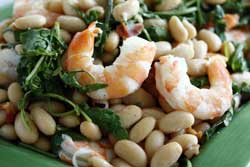 Related Menus


Sensational Salads



Related Recipe Categories


Soups and Salads




Related Products


Pool Party
This time of year most of us are looking for a way to cool off. Whether you're the host or the guest, turn your next pool-side gathering into an outright pool party with the help of this menu of summer hors d'oeuvres.