by Karin Calloway
Frozen puff pastry sheets are a boon for busy cooks. From hors d'oeuvres to main dishes to desserts, they take simple ingredients to new heights. My recipe for Shrimp Strudel is a luscious appetizer or first course that can be put together in just a few minutes.
1 sheet puff pastry, thawed completely
2 tablespoons butter or margarine
1 large shallot, peeled and chopped
1 pound medium shrimp, peeled and deveined
2 tablespoons chopped fresh parsley
1 green onion, chopped
1 tablespoon lemon juice
3 ounces cream cheese, softened
2 eggs
1/2 teaspoon Cajun seasoning
1/2 teaspoon Beau Monde seasoning
Preheat oven to 375 degrees F. Melt butter in a sauté pan over medium-high heat. Add chopped shallot and sauté until tender, about 5 minutes. Add shrimp, parsley, and green onion and sauté until shrimp begin turning pink. Remove from heat and add lemon juice, cream cheese, Creole and Beau Monde seasonings, and 1 egg, beaten. Set aside to cool slightly.

Place shrimp mixture down the middle of the pastry. Use a sharp pairing to cut 1-inch wide diagonal strips on both sides of the filling, from the edge of the filling to the edge of the pastry. Pull strips over shrimp mixture, alternating sides, to form a braid design. Beat the remaining egg in a small bowl and brush over the pastry.

Bake for 20 to 25 minutes, until golden. Allow strudel to rest 5 minutes before slicing.

Makes 6 servings.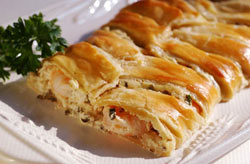 Related Recipe Categories
Appetizers
Related Products
Saute Pans

Viking Professional Cookware products are manufactured with exclusive Multi-Ply construction. Multi-Ply construction is a specially designed combination of stainless steel and aluminum alloys for lifetime performance, durability with easy cleanup, quick and even heat distribution.
The ergonomic stainless steel handle, a Viking Design exclusive, provides maximum comfort and secure handling. Designed in the USA, made in Belgium.
3 qt. Sauce Pan is currently on backorder.
Paring Knives - VCSR

This ultra premium cutlery is handcrafted in Solingen, Germany using old world standards. One piece forged construction of the optimum combination of high carbon - chromium - vanadium stainless steel provides for an easy to sharpen and long lasting edge.
This product has been discontinued.