by Karin Calloway


Cocktail meatballs are retro party fare. This recipe for Sweet-Hot Cocktail Meatballs is straight from my mother's recipe files but created with a new twist. Our classic family favorite for New Year's Eve parties was meatballs cooked in a combination of grape jelly and chili sauce. Here, the sauce gets a little heat with the substitution of hot pepper jelly.

The meatballs can be made several days ahead and reheated before serving. When it's party time, pull out mom's fondue pot and enjoy this party classic.


2 pounds extra lean ground beef
1/2 cup (1 4-ounce jar) 4 ounces red hot pepper or jalapeno pepper jelly
1 12-ounce bottle chili sauce
1 tablespoon lemon juice
Combine pepper jelly, chili sauce and lemon juice in a Dutch oven over medium heat. Form ground beef into small meatballs. Add meatballs to sauce and simmer 45 minutes, until meatballs are cooked through. Serve immediately or refrigerate in an airtight container. Reheat before serving.



Makes 12 to 16 appetizer servings.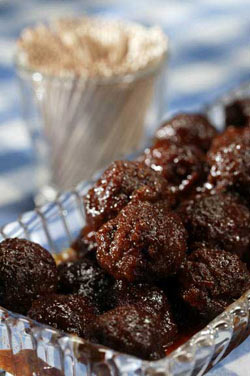 Related Menus
Super Bowl Buffet Supper
Related Recipe Categories
Appetizers
Related Products
7-Ply Sauce Pots

Viking Professional Cookware products are manufactured with exclusive Multi-Ply construction. Multi-Ply construction is a specially designed combination of stainless steel and aluminum alloys for lifetime performance, durability with easy cleanup, quick and even heat distribution.
The ergonomic stainless steel handle, a Viking Design exclusive, provides maximum comfort and secure handling.
The 5.5 qt. Sauce Pot is currently on backorder.