by Karin Calloway
It's amazing how the smell of cinnamon will bring the family scurrying into the kitchen. I developed a way to entice them down to breakfast without the least bit of prodding with my recipe for Cinnamon-Streusel Scones.

Packed with cinnamon sweetness, this recipe utilizes baking mix to make it extra quick and easy. While making scones from scratch isn't at all difficult, I find that when it comes to morning baking, the easier the better.

These hot-from-the-oven scones are perfect with a morning cup of coffee or as an addition to a bacon and egg breakfast.

Cinnamon-Streusel Scones


4 tablespoons butter
1 cup brown sugar
4 tablespoons all-purpose flour
1 tablespoon ground cinnamon
2 cups all-purpose baking mix*
2/3 cups whipping cream or buttermilk
1/2 cup rolled oats


Preheat oven to 425 degrees. Prepare the streusel by melting the butter in a saucepan over medium heat. Stir in the brown sugar, flour and cinnamon and set aside to cool.

Combine the baking mix, whipping cream or buttermilk and oats in a bowl. Crumble half of the streusel mixture over the batter and fold in gently. Pat dough into a 10-inch circle on a parchment paper-lined baking sheet. Sprinkle with remaining streusel. Cut into 8 wedges, but do not separate.

Bake 20 to 25 minutes, until golden brown. Separate into wedges and serve warm.

Makes 8 scones.

*Bisquick original baking mix was used for testing purposes.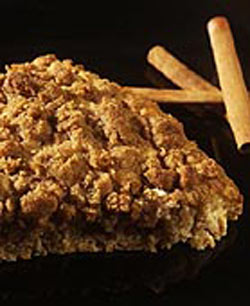 Related Recipe Categories
Breakfast and Brunch
Related Products
7-Ply Sauce Pans

Viking Professional Cookware products are manufactured with exclusive Multi-Ply construction. Multi-Ply construction is a specially designed combination of stainless steel and aluminum alloys for lifetime performance, durability with easy cleanup, quick and even heat distribution.

The ergonomic stainless steel handle, a Viking Design exclusive, provides maximum comfort and secure handling. Designed in the USA, made in Belgium.
2 qt. and 3 qt. sauce pans are currently on backorder.