by Karin Calloway


When you call it cornmeal mush or Italian grits there's not much allure. But when you call it polenta, cook it in chicken broth and stir in some creamy mascarpone cheese, well, I call it heaven. Since I live in the deep South and love grits I have no aversion to this creamy dish and relish the fact that polenta appears on many restaurant menus at this time. And, like grits, polenta is delicious served at your morning meal.

Here, this creamy polenta is topped with a sauté of grape tomatoes, garlic and fresh basil for a delicious meatless entrée that's perfect for brunch, lunch or dinner. And, since the recipe uses grape tomatoes, there's no need to wait until late summer for fresh, ripe farm stand tomatoes. The sauce is also delicious tossed with hot angel hair pasta.



Polenta




4 cups reduced-sodium chicken broth
1 cup polenta or coarse-ground cornmeal
8 ounces mascarpone cheese
Salt and freshly ground black pepper
Bring chicken broth to a boil in a large saucepan over medium-high heat. Whisk in polenta and cook until thickened, according to package directions. Stir in cheese and season to taste with the salt and pepper.



Sauce




2 teaspoons olive oil
2 pints grape tomatoes, rinsed and dried
1 teaspoon minced garlic (about 1 large clove)
Salt and freshly ground black pepper, to taste
1 14.5-ounce can reduced-sodium chicken broth
1/2 cup fresh basil leaves, cut into thin slivers
Freshly grated Parmesan or Romano cheese, for serving
Heat a large skillet over medium-high heat. Add olive oil and grape tomatoes; sauté 2 minutes. Add garlic, season with salt and pepper and sauté until skins of tomatoes begin to pop, about 3 to 5 minutes more. Add chicken broth; bring to a boil. Turn off heat and stir in the basil.

Stir well to combine and serve immediately over polenta, sprinkling each serving with some of the grated cheese, if desired.



Makes 6 servings.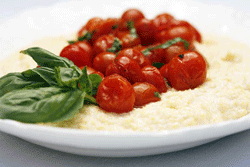 Related Menus


Herb Garden Brunch



Related Recipe Categories


Sauces, Spreads, and Spices




Related Products


Italian Inspired Cocktail Party
If you've grown tired of serving the same old hors d'oeuvres at your cocktail parties, this Italian Inspired Cocktail Party can be a nice change of pace. The common thread in the menu is the use of your Viking outdoor grill.