by Karin Calloway


Lasagna's lengthy preparation – boiling noodles, simmering a sauce and putting it all together – usually takes it out of the quick cooking realm. So, I set out to develop a recipe that doesn't require much preparation time, and that was a decided change of pace from the traditional lasagna combination of noodles, cheeses and meat sauce.

Don't let the long list of ingredients keep you from trying this recipe. There's absolutely no cooking involved before assembling the lasagna, and you'll only dirty up two bowls and your lasagna pan when you prepare the dish.

This lasagna can be fully assembled up to 24 hours before baking. Simply let it sit at room temperature for 30 minutes before baking. Add some rolls and a salad to complete the meal. For dessert, pick up a carton of peppermint ice cream and top it with hot fudge sauce.



Spinach Layer




2 10-ounce packages frozen chopped spinach, thawed and squeezed of excess liquid
15 ounces fat free cottage cheese
1 large egg
1 teaspoon Italian seasoning
1/2 teaspoon garlic salt
1/4 teaspoon ground black pepper
Dash nutmeg
Dash cayenne
Combine ingredients in a medium bowl and set aside.



Chicken Layer




3 cups cooked, cubed chicken
2 green onions, finely chopped
2 10 3/4-ounce cans Healthy Request Cream of Chicken Soup
1 cup reduced fat sour cream
1/2 cup shredded Parmesan cheese
1/4 teaspoon ground black pepper
Combine all ingredients in a medium bowl and set aside.


1 28-ounce or 2 14.5-ounce cans Italian seasoned diced tomatoes, undrained
2 cups shredded Italian-style 6-cheese blend or shredded part skim Mozzarella
12 uncooked "no-boil" lasagna noodles
Preheat oven to 350 degrees F. Spray a 9-by-13-inch glass-baking dish with nonstick cooking spray. Spread a heaping 1/2 cup of diced tomatoes (with juice) on the bottom of the prepared baking dish. Top with 4 noodles. Spread with 1/2 of spinach mixture, 1/2 of chicken mixture and 1/2 cup of the shredded cheese.

Top with 4 more noodles. Spread with 1/2 cup of diced tomatoes, the remaining spinach, the remaining chicken and 1/2 cup of the cheese. Top with 4 more noodles. Spread with the remaining diced tomatoes and juices. (Refrigerate the remaining cheese.) Cover tightly with aluminum foil and bake for 50 minutes. Remove from oven, remove foil and sprinkle with remaining cheese. Return to oven for 5 minutes more, until cheese is melted.



Makes 8-12 servings.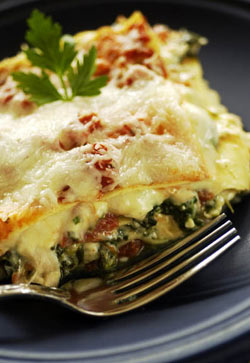 Related Recipe Categories


Main Dishes




Related Products


30" Custom Electric Range - VESC
The redesigned electric range provides both the largest oven capacity available and the largest convection fan on the market. TruGlide™ full-extension rack and three halogen lights add a world of convenience. And heavy duty metal knobs with stainless steel finish offer precise control over the QuickCook™ surface elements – which reach full power in nearly three seconds.