by Karin Calloway


Winter is usually thought of as soup season, but a cold soup in the summer can be a refreshing change of pace. My Chilled Avocado-Lime Soup is lusciously rich and simple to prepare. It's a combination of ripe avocado, reduced fat sour cream, chicken broth and fresh lime juice, all pureed in my Viking blender or food processor. A bit of chili powder gives this soup a slightly Southwestern flavor, making it the perfect starter for my Sophisticated Southwestern menu posted on this site.

Cold soups usually require several hours to chill, and that means advance planning. However, if most of the ingredients are nicely chilled and waiting in the refrigerator – for example, the sour cream and the chicken broth – then you'll be able to serve your soup right when you make it. Freezing your serving bowls also will help keep the soup cold.

The soup is delicious as is, served with a garnish of chopped ripe tomato and cilantro, but I like to take the soup over the top with the addition of a simple Crab Ceviche. Either way it's a cool way to start a summer menu.



Soup




3 ripe avocados
1 cup reduced fat sour cream
1 14.5-ounce can reduced sodium chicken broth, chilled
Juice of 2 limes
Sea salt and freshly ground black pepper to taste
1/2 teaspoon chili powder, optional
Dash Tabasco
Place all ingredients in a blender of food processor and process until smooth. Refrigerate until chilled. Pour soup into serving bowls and top with a dollop of Crab Ceviche.



Crab Ceviche




8 ounces lump crabmeat
1/2 small cucumber, peeled and finely diced
1 green onion, finely chopped
Juice of 1/2 lime
Sea salt and freshly ground pepper, to taste
Combine all ingredients in a bowl. Cover tightly and refrigerate until ready to serve. (Can be made several hours before serving.)



Makes 6 to 8 servings.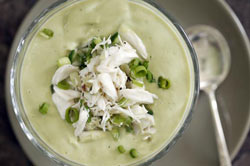 Related Recipe Categories
Soups and Salads
Related Products
Chef's Knives - VCSR

This ultra premium cutlery is handcrafted in Solingen, Germany using old world standards. One piece forged construction of the optimum combination of high carbon - chromium - vanadium stainless steel provides for an easy to sharpen and long lasting edge.
This product is currently on backorder.