by Karin Calloway


Southwestern chefs know how what to do with beef – from the famous Texas smoked brisket to flavorful grilled steak fajitas. But for more elegant fare, this Chile-Rubbed Tenderloin with "Roasted Salsa" Puree, Crumbled Feta and Avocado Relish packs loads of Southwestern flavor and can be the feature of a sophisticated dinner party menu.

A well-trimmed whole beef tenderloin is given a rub of Southwestern seasonings before being roasted. You can find prepared seasoning rubs in most supermarkets, and Emeril's Southwest Essence was used when testing the recipe.

What is a Southwestern meal with out salsa? Here, salsa ingredients of Poblano chiles, plum tomatoes, onion and garlic are broiled and then pureed into a sauce with prepared reduced-sodium chicken broth. A bit of brown sugar and chopped cilantro round out the flavors.

You can serve the sliced tenderloin and puree over a bed of cooked yellow rice, or with the Cumin-Cheddar Mashed Potatoes and Southwestern Succotash recipes posted on this site.



Roasted Salsa Puree




2 chiles Poblano, seeded and halved
6 ripe plum tomatoes, halved
1/2 large yellow or white onion, peeled and quartered
6 cloves garlic, peeled
2 cups reduced-sodium chicken broth
Sea salt and freshly ground black pepper
1 tablespoon brown sugar
1 tablespoon chopped cilantro
Move top rack to 5 inches below broiler. Arrange chiles, tomatoes, onion and garlic on a large baking sheet. Turn on infrared broiler and broil vegetables for about 10 minutes, until charred. Cool slightly, and then scrape into a blender or food processor.

Pour chicken stock into the baking sheet, scraping up any browned bits, then pour into the blender or food processor. Pulse until mixture is completely smooth, about 10 to 15 seconds. Pour into a saucepan, season with some salt and pepper, stir in brown sugar and simmer until slightly reduced. Stir in cilantro just before serving.



Tenderloin




1 3-4 pound center-cut beef tenderloin, silver skin removed, washed and patted dry with paper towels
Prepared Southwestern rub*, to taste
Preheat oven to 450 degrees F. Rub tenderloin with the Southwestern seasonings and place on roasting pan with rack. Roast for 40 to 45 minutes, or until internal temperature of 130 degrees is reached for rare, 145-150 for medium and 165 for well done.



Avocado Relish




2 medium ripe avocados, seed removed, peeled and diced
1/2 red bell pepper, seeded and diced
1 jalapeno, seeded and finely chopped
Juice of 1 large lime
Sea salt to taste
4 ounces feta cheese, crumbled, for garnish
Combine diced avocados, red bell pepper, jalapeno, lime juice and salt in a bowl. Taste for seasoning, adding more salt or lime juice, if needed. Cover with plastic wrap and press on top of relish. (Can be stored at room temperature for up to 2 hours.)

Place a puddle of sauce on each dinner plate. Slice beef into 1/2-inch thick slices and place 3 slices on top of the sauce on each place. Top steak with a dollop of avocado relish. Sprinkle crumbled feta around steak.



Makes 6 to 8 servings.



*Emeril's Southwest Essence was used for testing purposes.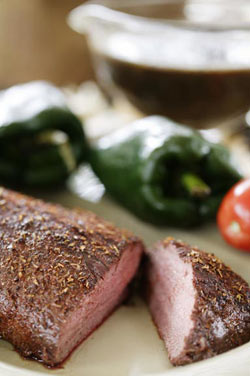 Related Menus


Sophisticated Southwestern



Related Recipe Categories


Main Dishes




Related Products


Sophisticated Southwestern
Southwestern cuisine is most often associated with Tex-Mex items like grilled steak fajitas. And while fajitas are great for casual entertaining, the flavors of the Southwest can be featured in an elegant dinner party menu.