by Karin Calloway


If a trip to a produce stand or a back-yard bumper crop has you searching for something to do with the season's bounty, consider this Farm Stand Stew. Although stews are typically winter fare, this old-fashioned combination of fresh vegetables is a light and healthy entree or side dish.

I like to serve it atop corn bread as the center of a vegetarian meal. However, the medley also makes a great accompaniment to grilled chicken. The stew has a decidedly Southern influence, and can be made more so by substituting bacon fat for the butter. Or, sauté the vegetables in olive oil and add some crushed garlic and fresh herbs from your garden to give the stew an Italian accent


2 small yellow squash, washed and diced
2 small zucchini, washed and diced
2 tablespoons butter or olive oil, divided
1 medium onion, thinly sliced
2 green bell peppers, cored, seeded and cut into strips
4 tomatoes, cored and cut into wedges
Salt, freshly ground black pepper and cayenne pepper to taste
1 cup of fresh corn (kernels cut from 2 ears)
Melt 1 tablespoon butter in a large sauté pan over medium-high heat. Add squash and sauté until it begins to brown. Remove from pan and set aside. Add remaining tablespoon of butter to pan. Add onions and peppers and sauté until wilted.

Stir in tomatoes and season to taste with salt, pepper and cayenne. Cook, uncovered, for 10 minutes. Stir in corn and cook 5 minutes more. Return squash to pan and heat through.



Makes 4 main dish or 8 side dish servings.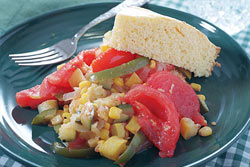 Related Recipe Categories


Soups and Salads




Related Products


36" Gas Cooktop - VGSU
Designed to fit virtually all 30" wide cutouts, the built-in gas cooktops make it simple to replace old cooktops with Viking commercial cooking power. Chef's Knives - VCSR


This ultra premium cutlery is handcrafted in Solingen, Germany using old world standards. One piece forged construction of the optimum combination of high carbon - chromium - vanadium stainless steel provides for an easy to sharpen and long lasting edge.

This product is currently on backorder.