by Karin Calloway


When we think of Mexican foods, most of our minds go straight to the crunchy beef tacos our mother's made from a family-sized taco kit. But the flavors of Mexican fare are far more varied and complex.

This month's recipe for Fish Tacos with Cilantro Slaw, Chipotle Crème and Pico de Gallo show how a few ingredients, simply treated, can offer fresh flavors more typical of true Mexican cuisine. Fish tacos are popular all along the Mexican-American border, and many varieties of fish can be used in their preparation. Fresh, U.S. farm-raised catfish is readily available throughout the U.S. and is delicious when seasoned with Badia Complete Seasoning and seared in a pan. Mahi mahi, tilapia and halibut are good substitutes.

While the fish is simply seasoned and prepared, the tacos get crunch from Cilantro Slaw, creamy spiciness from Chipotle Crème and a peppery bite from Pico de Gallo. All three components can be prepared ahead.



Cilantro Slaw




1 1/2 cups angel hair shredded cabbage for coleslaw*
1/4 cup chopped cilantro
3 tablespoons rice wine vinegar or cider vinegar
2 tablespoons olive oil
1 teaspoon sugar
Salt and freshly ground black pepper, to taste
Place shredded cabbage and cilantro in a bowl. Whisk rice wine vinegar, olive oil, sugar and salt and pepper to taste together in a small bowl. Toss dressing with cabbage, taste and add salt and pepper, if needed, and refrigerate until ready to serve.



Chipotle Crème




1/4 cup Chipotle mayonnaise
1/4 cup sour cream
1 tablespoon lime juice
1 tablespoon chopped cilantro
1/2 teaspoon minced garlic (about 1 small clove)
Combine all of the ingredients in a small bowl, cover and refrigerate until ready to use. Makes 1/2 cup.



Pico de Gallo




Juice of 1 lime
2 large tomatoes, cored and chopped
1 medium onion, finely chopped
1/2 jalapeno pepper, seeded and finely chopped, or to taste
1/2 cup fresh cilantro leaves, chopped
Salt and pepper to taste
Combine all ingredients in a small bowl, seasoning to taste with salt and pepper. Cover tightly and refrigerate until ready to use. Makes 1 1/2 cups.



Fish




1 pound fish fillets (U.S. farm-raised catfish, mahi mahi, tilapia or halibut), cut into long "fingers"
Juice of 1 lime
Badia Complete Seasoning** or Fajita seasoning, to taste
6 flour or corn tortillas
Place fish fillets in a glass baking dish and drizzle with lime juice, turning to coat both sides. Sprinkle with Badia or Fajita seasoning. Heat a nonstick skillet over medium-high and add fillets. Cook until golden brown on one side, turn and cook on the other side, about 2 to 3 minutes per side.

Place a flour tortilla on a dinner plate. Place some of the Cilantro Slaw down the center of the tortilla. Top with some of the fish "fingers," drizzle with some of the Chipotle Crème and add a dollop of the Pico de Gallo.



Makes 6 servings.



* 1/2 package Fresh Express Angel Hair Coleslaw finely shredded cabbage was used for testing purposes.

** Badia Complete Seasoning is available in the Hispanic section of many supermarkets. A monosodium glutamate-free substitute can be made by combining 1/2 teaspoon salt, 1/2 teaspoon garlic powder, 1/2 teaspoon dried parsley flakes, 1/4 teaspoon dried oregano and 1/4 teaspoon ground paprika.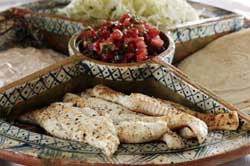 Related Menus
Casual Company Mexican Meal
Related Recipe Categories
Main Dishes
Related Products
Fry Pans

Viking Professional Cookware products are manufactured with exclusive Multi-Ply construction. Multi-Ply construction is a specially designed combination of stainless steel and aluminum alloys for lifetime performance, durability with easy cleanup, quick and even heat distribution. The ergonomic stainless steel handle, a Viking Design exclusive, provides maximum comfort and secure handling. Designed in the USA, made in Belgium.
8" and 11" Fry Pans are currently on backorder.

5" Santoku Knife - VCSR

This ultra premium cutlery is handcrafted in Solingen, Germany using old world standards. One piece forged construction of the optimum combination of high carbon - chromium - vanadium stainless steel provides for an easy to sharpen and long lasting edge.
This product is currently on backorder.