by Karin Calloway


Beef stew was company food when I was growing up. Although the hearty winter dish uses inexpensive stew beef, my mother's version was company worthy. Based on a recipe from a neighbor, the stew contained browned beef, red wine, beef broth, carrots, onions, potatoes and green peas. The red wine, along with dried thyme and bay leaves are what took the stew from family food to company fare.

While my mother's recipe calls for cooking on top of the stove, I've found that the dish can be prepared almost unattended in the oven. Butter and vegetable oil are heated in a roasting pan and the beef is added to brown in a 400 degree oven. This unattended browning of the beef is a coup for busy cooks, and only takes 15 to 20 minutes.

The oven method used for the stew makes it a snap to prepare, while maintaining the flavors of the stew of my childhood. Serve the stew as the centerpiece of a hearty winter meal with a green salad and crusty bread. The potatoes may be omitted from the recipe, and the stew served over broad egg noodles


2 pounds beef stew meat
1 tablespoon butter
1 tablespoon vegetable oil
1/2 teaspoon dried thyme
1 bay leaf
2 tablespoons chopped fresh parsley
1 cup dry red wine
1 14.5-ounce can beef broth
4 carrots, cut 1/2 inch thick
2 medium onions, cut into 8 wedges
5 medium potatoes, peeled and quartered
Salt and pepper to taste
1 10-ounce package frozen green peas, thawed
Preheat oven to 400 degrees F. Place butter and vegetable oil in a large roasting pan and heat in oven until butter is melted. Season beef with salt and pepper and add to the hot pan. Brown the beef in the oven, uncovered, for 15 to 20 minutes.

Remove pan from oven and reduce oven temperature to 300 degrees F. Stir in thyme, bay leaf, red wine and beef broth. Cover, return to oven and cook 45 minutes. Remove pan from oven again, and stir in the carrots, onions and potatoes. Return and cook 45 minutes more. When done, stir in peas to heat through, and season to taste with salt and pepper.



Makes 8 servings.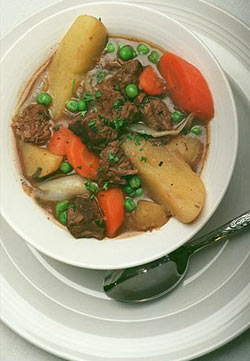 Related Recipe Categories
Soups and Salads
Related Products
Roasting Pan

Viking Professional Cookware products are manufactured with exclusive Multi-Ply construction. Multi-Ply construction is a specially designed combination of stainless steel and aluminum alloys for lifetime performance, durability with easy cleanup, quick and even heat distribution.

The ergonomic stainless steel handle, a Viking Design exclusive, provides maximum comfort and secure handling. Designed in the USA, made in Belgium.
Chef's Knives - VCSR

This ultra premium cutlery is handcrafted in Solingen, Germany using old world standards. One piece forged construction of the optimum combination of high carbon - chromium - vanadium stainless steel provides for an easy to sharpen and long lasting edge.
This product is currently on backorder.