Greek chicken, with its heady aroma of lemon and oregano, is a restaurant favorite of mine. Now, these wonderful flavors take center stage in my crowd-pleasing Greek Turkey Breast.

I began roasting turkey breasts in baking bags when I was first married, usually preparing the turkey with traditional seasonings. This recipe packs loads of flavor when it's cooked skin-side down in a baking bag with fresh lemon juice, olive oil, oregano, parsley and salt and pepper. While the amount of salt called for seems high, the final dish does not taste overly salted.

Roasting for several hours at a low temperature in the steam-filled baking bag ensures a moist turkey that's nearly falling off the bone. The juices from the bag make a delicious sauce for the sliced turkey breast, which I like to serve with cooked white rice or orzo. Sautéed spinach sprinkled with feta cheese would make a delicious accompaniment.

Leftover turkey can be used in Greek-style wrap sandwiches with lettuce, tomato, sliced black olives and a dressing of plain yogurt and crumbled feta.


1 large oven baking bag
1 tablespoon flour
1 4 to 5 pound turkey breast
2 tablespoons chopped fresh parsley
1 teaspoon dried oregano
1/4 cup olive oil
1 tablespoon sea or kosher salt
2 tablespoons freshly ground black pepper
1 cup fresh lemon juice
Preheat oven to 300 degrees F. Open baking bag and add flour. Shake several times to coat inside of bag and place bag in a large roasting pan. Place turkey breast in the bag, breast side down. Combine remaining ingredients in a bowl and pour over the turkey breast. Seal the bag and pierce the top of the bag several times with a sharp knife. Roast for 3 to 4 hours. Remove from bag and pour pan drippings into a gravy boat or bowl. Slice the turkey and serve with the pan drippings.



Makes 8 servings.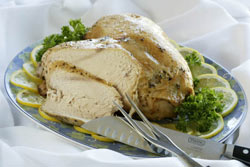 Related Recipe Categories
Main Dishes