Hot dogs are ballpark and backyard cookout favorites. Add some crisp, slightly sweet coleslaw and you've got a slaw dog. This recipe, one I developed as an adult entree for a casual summer get together, is my vision of a slaw dog for the new millennium. Seared, marinated tuna replaces the additive-ridden franks, and the slaw is given an Oriental twist.

The slaw is a combination of bagged coleslaw, julienned red and yellow bell peppers and chopped green onions. The vegetables are tossed in a simple Oriental vinaigrette, which, when time is short, can be replaced with bottled citrus ginger dressing. Add some sesame oil and soy sauce to give it an Oriental accent. This coleslaw makes a nice side dish, and can be served topped with the seared tuna rather than in a bun.

Wasabi mayonnaise is the perfect condiment. Combine prepared mayonnaise with wasabi powder (available in the Oriental foods section of most supermarkets or at Oriental markets) for a zippy addition to your slaw dogs. Be careful not to add too much wasabi powder, as it is extremely hot and spicy.


1 pound sashimi grade tuna steaks
1/4 cup fresh lime juice
2 tablespoons white vinegar
2 tablespoons soy sauce
2 tablespoons brown sugar
1/4 cup vegetable oil
1 tablespoon sesame oil
1/2 teaspoon cayenne pepper
1 16-ounce bag prepared coleslaw
1/2 red bell pepper, julienned
1/2 yellow bell pepper, julienned
4 green onions, cut on the diagonal into 1/4-inch pieces
4 good quality hot dog buns
1/2 cup mayonnaise, optional
1-2 teaspoons wasabi powder, optional

Cut tuna steaks into long rectangles, resembling the shape and size of hot dogs and place in a glass dish or zip-top plastic bag.

In a medium bowl, combine lime juice, white vinegar, soy sauce, brown sugar, vegetable and sesame oils, and cayenne. Remove 1/4 cup of the dressing and pour over tuna steaks. Marinate tuna steaks, refrigerated, for 30 minutes.

Meanwhile, in a large bowl combine the remaining dressing with the coleslaw, julienned peppers and green onions. Cover and refrigerate.

To sear the steaks, heat a saute pan over medium-high heat. Remove tuna pieces from marinade, shaking off excess and add them to the hot pan. Sear tuna 2 minutes per side for medium-rare, or until desired doneness is reached.

Prepare the wasabi mayonnaise by combining the mayonnaise with the wasabi powder, if desired. Split hot dog buns and fill with some of the coleslaw and the hot tuna "dogs." Serve the wasabi mayonnaise on the side as a condiment.



Makes 4 servings.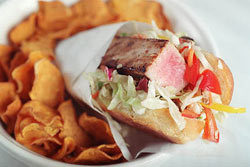 Related Recipe Categories
Main Dishes