Everyone has their own favorite comfort foods, those meals that we consume more as spirit nurturers than nutritional supporters. Macaroni and cheese, Mom's meatloaf, and pizza with the works are often at the head of the list of favorite comfort foods. But to me, there's got to be a place at the top for Pasta Carbonara, or Perciatelli with Bacon and Peas, as it's called in my house.

My version is simple and straightforward – just crisped bacon pieces with the rendered fat, defrosted peas and cooked Perciatelli pasta. Add a good grinding of black pepper and a grating of Parmesan and I'm in comfort food heaven. While this recipe is the simplest form of the quintessential Pasta Carbonara, you could add some sautéed mushrooms for a dish that's a bit more complex.

Add a glass of Chianti, a tossed salad and some Italian music in the background for comfort food at it's best.


8 ounces perciatelli pasta
1 teaspoon salt
1 cup frozen peas
1/2 pound bacon, diced
Freshly ground black pepper, to taste
Freshly grated Parmesan, to taste

Fill a large pot 3/4 full of water and add the salt. Bring to a boil over high heat and add the perciatelli. Cook according to package directions. Place the peas in a colander in the sink. Drain the pasta over the peas. Pour the pasta and peas onto a serving platter.


While the pasta cooks, sauté the diced bacon in a large skillet over medium-high heat. When the bacon begins to turn golden-brown, turn off the heat and set the skillet aside until the pasta is done.

Pour the bacon and drippings over the pasta, top with liberal grindings of the black pepper and Parmesan, toss, and serve with additional Parmesan at the table.

Makes 2 to 4 servings.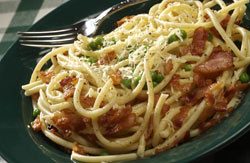 Related Recipe Categories
Main Dishes
Related Products
Saute Pans

Viking Professional Cookware products are manufactured with exclusive Multi-Ply construction. Multi-Ply construction is a specially designed combination of stainless steel and aluminum alloys for lifetime performance, durability with easy cleanup, quick and even heat distribution.
The ergonomic stainless steel handle, a Viking Design exclusive, provides maximum comfort and secure handling. Designed in the USA, made in Belgium.
3 qt. Sauce Pan is currently on backorder.