If "dinner on the run" means a run through the drive-in-window, rather than running to the kitchen, this Quick Chicken Marinara can keep you dining on the home front instead of in the car.

Seasoned, diced canned tomatoes can help you whip up a good meal without opening the spice cabinet or getting out the measuring spoons. Almost every producer of canned vegetables has added the flavorful tomato blends to their product line, with flavors ranging from roasted garlic to Mexican seasonings. The canned diced tomatoes with Italian-style herbs, with a blend of basil, oregano and garlic, are wonderful as a quick, chunky sauce when heated and served over pasta. Add sauteed chicken breast pieces and shredded cheese, and it's even better. Angel hair pasta is the perfect pairing for this recipe, as the thin strands cook quickly, allowing you to have a healthy, hearty meal on the table in 20 minutes.


8 ounces angel hair pasta
1 tablespoon olive oil
2 boneless, skinless chicken breast halves, diced
Salt and ground black pepper to taste
2 14.5-ounce cans diced tomatoes with Italian herbs
1 8-ounce package shredded Italian five-cheese blend
Bring a large pot of water to a boil over high heat. Add pasta and cook according to package directions. Drain well and return to the pot.

Meanwhile, heat olive oil in a large skillet over medium-high heat. Add chicken, season with salt and pepper, and stir until chicken is no longer pink, about 5 minutes. Add diced tomatoes and bring to a boil.

Pour the sauce over the drained pasta and toss well. Top with cheese and toss again.



Makes 4 servings.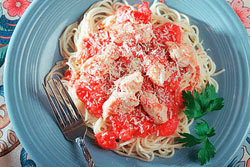 Related Recipe Categories
Main Dishes
Related Products
Fry Pans

Viking Professional Cookware products are manufactured with exclusive Multi-Ply construction. Multi-Ply construction is a specially designed combination of stainless steel and aluminum alloys for lifetime performance, durability with easy cleanup, quick and even heat distribution. The ergonomic stainless steel handle, a Viking Design exclusive, provides maximum comfort and secure handling. Designed in the USA, made in Belgium.
8" and 11" Fry Pans are currently on backorder.