I'm a stroganoff lover. From beef tips, to meatballs to chicken, I thought I'd prepared the classic combination of meat, mushrooms and a sauce thickened with sour cream every way imaginable.

Then, I came home from the seafood market with some beautiful shrimp and scallops with no plan for how to prepare them. By the time dinner was served, I had a luscious and elegant Shrimp and Scallop Stroganoff.


2 tablespoons butter, divided
8 ounces sliced mushrooms
1 pound large shrimp, peeled and deveined
1 pound sea scallops, rinsed and patted dry with paper towels
1/2 teaspoon ground black pepper
1 8-ounce bottle clam juice
2 tablespoons flour
1 cup sour cream
2 tablespoons dry sherry
1 tablespoon chopped fresh parsley
Cooked egg noodles or white rice
Heat 1 tablespoon of butter in a large skillet over medium-high heat. Add mushrooms and sauté until golden. Remove from skillet and set aside. Melt remaining butter in skillet and add shrimp and scallops. Sauté until shrimp turn pink, about 3 minutes. Remove from skillet and set aside.

Combine black pepper, clam juice and flour in a bowl and add to skillet. Bring to a boil, then reduce heat and simmer until thickened. Reduce heat to low and stir in sour cream. Return mushrooms, shrimp and scallops to the pan and add sherry. Cook until heated through. Sprinkle with parsley and serve over egg noodles or rice.



Makes 6 servings.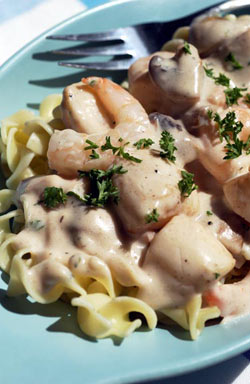 Related Recipe Categories
Main Dishes
Related Products
Saute Pans

Viking Professional Cookware products are manufactured with exclusive Multi-Ply construction. Multi-Ply construction is a specially designed combination of stainless steel and aluminum alloys for lifetime performance, durability with easy cleanup, quick and even heat distribution.
The ergonomic stainless steel handle, a Viking Design exclusive, provides maximum comfort and secure handling. Designed in the USA, made in Belgium.
3 qt. Sauce Pan is currently on backorder.