Spanakopitas are popular Greek appetizers in which spinach and feta cheese are encased in buttered phyllo pastry. The original version is quite delicious, yet extremely labor-intensive. Inspired to enjoy more Greek recipes by the film "My Big Fat Greek Wedding," I'm passing along my Spanakopita Pie, which combines the ingredients from the original Spanakopita filling and bakes them up into one delicious pie.

Although this pie contains more spinach and fewer eggs than most quiches, it is like a quiche in that it can be made ahead and freezes well. A whole, baked pie can be reheated in a 300-degree oven for 15 to 20 minutes, or individual slices can be heated in the microwave. The baked pie can be frozen for up to one month.

Spanakopita Pie is a great meatless entrée for a light supper served with sliced tomatoes and cucumbers or a fresh fruit salad. Or, serve your pie as a side dish to grilled chicken or lamb chops for a Greek-inspired meal.


1 tablespoon butter, margarine or olive oil
1/2 bunch green onions, green and white parts included, chopped
1/2 teaspoon dried oregano
1 teaspoon dried dill weed
2 10-ounce packages frozen chopped spinach, thawed and drained well
1/2 teaspoon ground black pepper
1/2 teaspoon salt
1/4 teaspoon ground nutmeg
Pinch ground cayenne pepper
4 ounces feta cheese, crumbled
1 cup lowfat cottage cheese
4 eggs, beaten
1 frozen deep-dish pie shell
Paprika, for garnish

Preheat oven to 375 degrees F. Melt butter or heat olive oil in a medium skillet. Add green onions, oregano and dill weed and sauté for 2 to 3 minutes. Add spinach, black pepper, salt, nutmeg and cayenne and sauté 3 minutes more. Set aside to cool.


Combine feta and cottage cheeses with eggs in a medium bowl. Add spinach mixture and pour into the pie shell. Bake for 25 to 30 minutes, until a knife inserted in the center comes out clean.

Makes 6 servings.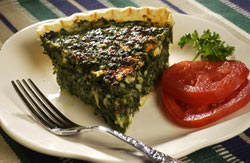 Related Recipe Categories


Main Dishes




Related Products


Fry Pans


Viking Professional Cookware products are manufactured with exclusive Multi-Ply construction. Multi-Ply construction is a specially designed combination of stainless steel and aluminum alloys for lifetime performance, durability with easy cleanup, quick and even heat distribution. The ergonomic stainless steel handle, a Viking Design exclusive, provides maximum comfort and secure handling. Designed in the USA, made in Belgium.

8" and 11" Fry Pans are currently on backorder.


36" Gas Cooktop - VGSU
Designed to fit virtually all 30" wide cutouts, the built-in gas cooktops make it simple to replace old cooktops with Viking commercial cooking power.