by Karin Calloway


Coleslaw is the ever-present sidekick to barbecue, and the crisp and crunchy salad is the perfect foil to smoky ribs or pulled pork sandwiches. With the help of a Viking food processor, turning an inexpensive head of cabbage into a mound of slaw takes mere seconds. And with my recipe, supermarket convenience products turn the shredded cabbage into something special.

The shredded cabbage is combined with canned Mexicorn and sliced black olives, is sauced with prepared coleslaw dressing and sprinkled with shredded cheddar for a truly special twist on standard slaw. When you have a little extra preparation time, grill two or three ears of corn to use in place of the canned corn. Alternately, when short on time, substitute a bag of shredded cabbage for coleslaw from your supermarket's produce section.


1/2 head green cabbage, thinly sliced or shredded
1 14-ounce can Mexicorn, drained
1 4-ounce can sliced black olives, drained
1 1/2 cups prepared coleslaw dressing
1 cup shredded sharp cheddar cheese
Combine all ingredients in a large bowl. Serve immediately or cover and refrigerate until ready to serve.



Makes 8 servings.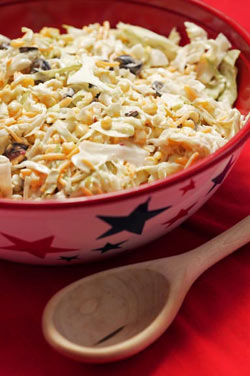 Related Menus


Summer Barbecue



Related Recipe Categories


Vegetables and Sides




Related Products


Summer Barbecue
July is the perfect month to hit the grill, and this menu offers up a bevy of recipes to get you started. A smoky starter of Grilled Corn Salsa is ideal for summer entertaining, paired with tortilla chips and Mexican beer.