When the winter doldrums set in, I like to read novels that take me to far away places. And, my menus also reflect my wanderlust. My Tuna Steaks with Olive Sauce take me to the Mediterranean without a passport or plane ticket.

I use the infrared broiler in my all-gas Viking to beautifully sear tuna steaks. The steaks are rubbed with olive oil, then are seasoned with salt and pepper before broiling. The broiler sears the tuna steaks in just minutes per side.

The sauce is the special touch here, and it can be whipped up in minutes. Pitted Greek olives, fresh sliced mushrooms and diced tomato pair with red wine for a sublime sauce. A bit of fresh rosemary and minced garlic add extra flavor. Serve the seared, sauced tuna with buttered orzo and a Greek salad for a journey on a plate.


4 6-ounce tuna steaks
Olive oil, salt and pepper
1 tablespoon olive oil
1 teaspoon minced garlic
8 ounces fresh mushrooms, cleaned and sliced
15 kalamata or other Greek olives packed in brine, pitted
1 medium tomato, cored and diced
1 1/2 cups red wine
1 teaspoon fresh rosemary, chopped
Salt and pepper, to taste

Rub tuna steaks with olive oil and season to taste with salt and freshly ground black pepper. Set aside.


Prepare sauce by heating 1 tablespoon of olive oil in a sauté pan over medium-high heat. Add garlic and mushrooms and sauté until mushrooms are golden, about 4 minutes. Add olives, tomato, red wine and rosemary and bring to a boil. Reduce heat to medium and simmer until wine is reduced to one cup, about 5 minutes. Season with salt and pepper to taste and keep warm.

Place tuna steaks on the broiler with rack and broil 2 minutes per side*, until seared on the outside but still slightly pink on the inside. Place each steak on a dinner plate and top with some of the sauce.

Makes 4 servings.

*The tuna steaks also may be grilled over medium-high for 2 to 3 minutes per side on a preheated Viking-top or outdoor grill.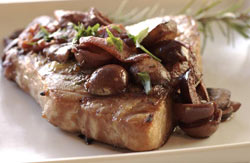 Related Recipe Categories
Main Dishes
Related Products
Chef's Knives - VCSR

This ultra premium cutlery is handcrafted in Solingen, Germany using old world standards. One piece forged construction of the optimum combination of high carbon - chromium - vanadium stainless steel provides for an easy to sharpen and long lasting edge.
This product is currently on backorder.
Saute Pans

Viking Professional Cookware products are manufactured with exclusive Multi-Ply construction. Multi-Ply construction is a specially designed combination of stainless steel and aluminum alloys for lifetime performance, durability with easy cleanup, quick and even heat distribution.
The ergonomic stainless steel handle, a Viking Design exclusive, provides maximum comfort and secure handling. Designed in the USA, made in Belgium.
3 qt. Sauce Pan is currently on backorder.