by Karin Calloway


Crisp slaws are the perfect picnic take-along, but most are heavily loaded down with creamy dressings. My flavorful Gingered Summer Squash Slaw is a lighter choice that's flavored with lots of ginger and a hint of mint. This veggie-packed side is low in calories, but can be lightened further by substituting fat-free Italian dressing for the oil and artificial sweetener for the honey.

A mandolin can be used to julienne the squash and carrot, but when time is really short, simply grate the vegetables in the food processor for a colorful confetti-style slaw. The slaw is great alongside grilled burgers and chicken, but also makes a crispy base for teriyaki-basted grilled salmon fillets or tuna steaks.


2 small yellow squash, scrubbed, ends and seeds removed and julienned
2 small zucchini, scrubbed, ends and seeds removed and julienned
1 small red bell pepper, washed, cored, seeds removed and julienned
1 cup snow peas, washed, ends removed and julienned
1 medium carrot, washed, scraped and julienned
2 green onions, chopped
1/4 cup chopped fresh mint
2 tablespoons grated fresh ginger or prepared ginger puree
1/2 cup rice wine vinegar
1/4 cup canola oil or fat-free Italian dressing
1 tablespoon soy sauce
1 tablespoon honey or 2 packets artificial sweetener
Sea salt and freshly ground black pepper, to taste
Place squash, red bell pepper, snow peas, carrots and green onions in a large bowl or plastic container with a tight-fitting lid. Combine mint, ginger, vinegar, oil or dressing, soy sauce, and honey or artificial sweetener in a bowl. Pour over vegetables, sprinkle with salt and ground black pepper, and toss well. Cover and refrigerate until ready to serve.



Makes 8 servings



Note: Salad can be prepared up to 24 hours before serving.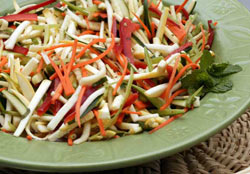 Related Menus


Early Autumn Picnic Menu



Related Recipe Categories


Vegetables and Sides




Related Products


Early Autumn Picnic Menu
Whether you're heading to your alma mater for a fall football game and tailgate meal, or to enjoy a picnic by the lake, this month's menu of make-ahead dishes is sure to be a hit.