by Karin Calloway


Muffin mixes are great to have on hand to whip up a quick side dish or treat, but you can turn a standard blueberry muffin mix into a delicious coffee cake with the addition of just a few ingredients. I came up with this recipe for Blueberry-Almond Coffee Cake when entertaining weekend guests. Heavy rains led us to stay home rather than head out for brunch, so I made an experimental coffee cake that was a hit.

Sour cream replaces the oil in the muffin mixture. The muffin mix and a sublime cream cheese filling are then layered in a pan. Both batters are flavored with almond extract, taking this mix-based breakfast treat over the top.

The cake gets a crunchy topping of brown sugar mixed with slivered almonds, chopped white chocolate and dried blueberries. You can omit the topping and simply sprinkle the cake with powdered sugar after it's baked.



Cake




1 18.25-ounce package wild blueberry muffin mix*
1 cup water
3 tablespoons sour cream
1 egg
1 teaspoon almond extract
Cream Cheese Filling
8 ounces cream cheese, softened
1/3 cup sugar
1 tablespoon flour
1 egg
2 teaspoons almond extract
Topping
1/4 cup brown sugar
1/2 cup dried blueberries
1/3 cup slivered almonds
1/2 cup chopped white chocolate
Preheat oven to 350 degrees F. Spray a 9-inch springform pan with nonstick cooking spray and set aside.

Combine all cake ingredients in a large bowl, stirring until smooth. Drain blueberries and fold into the batter. Combine the cream cheese filling ingredients in another bowl, beating by hand or with an electric mixer, until smooth. Combine the topping ingredients in a bowl and set aside.

Spread half of the cake batter in the prepared pan. Top with the filling, then spread with the remaining batter. Sprinkle with the topping and bake for 45 to 50 minutes.



Makes 8 servings.



*Muffin mix should include a package of dry cake mix and a can of blueberries.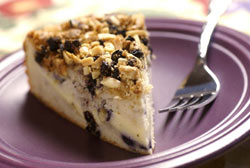 Related Recipe Categories


Desserts




Related Products


30" Custom Electric Range - VESC
The redesigned electric range provides both the largest oven capacity available and the largest convection fan on the market. TruGlide™ full-extension rack and three halogen lights add a world of convenience. And heavy duty metal knobs with stainless steel finish offer precise control over the QuickCook™ surface elements – which reach full power in nearly three seconds.