by Karin Calloway


Nothing better speaks of summer than a fruit pie filled with the season's finest berries and fruit. This recipe takes advantage of wonderful blueberries and peaches, in a pie that tastes way to good to be so easy. Gone are the days when most home cooks take the time to make homemade pie crusts, and this pie takes the simplest option, using a purchased shortbread cookie crust that you can find in the baking aisle of your supermarket.

The filling ingredients include sour cream, sugar, vanilla and an egg, and are whipped up in a snap. Two cups of fruit are folded into the filling, and don't have to be limited to the blueberries and peaches I suggest. Fresh strawberries, raspberries, apples or pears all pair well with the sour cream filling.

The crowning touch is a cinnamon streusel topping that is sprinkled over the pie before the last 10 minutes of baking. I'm always on the look-out for recipes that can be made ahead, as they allow me to spend more time with guests and family when entertaining. This pie fits the bill, as it needs to be thoroughly chilled before serving, and can be made a day ahead.



Pie




1 9-inch shortbread pie crust
1 cup regular or reduced-fat sour cream
2 tablespoons all-purpose flour
3/4 cup sugar
1 teaspoon vanilla
1/4 teaspoon salt
1 egg, beaten
1 cup blueberries, washed and dried well
1 cup peaches, peeled and sliced (about 3 medium peaches)
Streusel Topping
1/3 cup sugar
1/3 cup self-rising or all-purpose flour
1 teaspoon ground cinnamon
1/4 cup cold butter
Preheat oven to 350 degrees F. Combine sour cream, flour, sugar, vanilla, salt and egg in a medium bowl. Place blueberries in a small bowl and fold in half of the sour cream mixture. Add the peaches to the remaining sour cream mixture. Spread the peach mixture in the bottom of the pie crust. Top with the blueberry mixture and bake 25 minutes.

While the pie bakes, combine the sugar, flour and cinnamon. Cut in butter with a pastry blender or fork until crumbly. After 25 minutes, sprinkle the streusel topping over the pie and return to the oven. Bake 10 minutes, or until browned.



Makes 1 9-inch pie.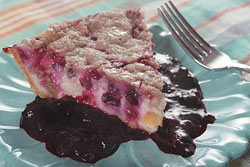 Related Recipe Categories
Desserts
Related Products
Chef's Knives - VCSR

This ultra premium cutlery is handcrafted in Solingen, Germany using old world standards. One piece forged construction of the optimum combination of high carbon - chromium - vanadium stainless steel provides for an easy to sharpen and long lasting edge.
This product is currently on backorder.