by Karin Calloway
Melting chocolate usually requires a double boiler. Not so with my Viking gas range. I just throw chunks of chocolate in a saucepan and turn the burner on to simmer, then walk away for a few minutes, until the chocolate is melted. Since Viking simmer setting is so gentle, I don't have to worry about the chocolate burning or sticking to the saucepan.

The beauty of this feature became evident when I pulled out my recipe for Chocolate Pâté. It took only five minutes for the pound of chocolate in the recipe to melt perfectly.

My Chocolate Pâté calls for three types of chocolate, and I find the combination gives this rich dessert a much more complex and interesting flavor than using one chocolate alone. Bittersweet, semisweet and milk chocolate are melted along with corn syrup, butter and whipping cream, then are cooled and folded into whipped cream. A tablespoon of Kahlua and a teaspoon of vanilla extract round out the flavors nicely, and the resulting dessert tastes like one giant chocolate truffle.

I like to add a simple raspberry sauce (just puree a defrosted package of frozen raspberries in syrup, then strain out the seeds) and a glass of Framboise (raspberry wine) to complete this elegant, special-occasion dessert.


4 1/2 3.5-ounce imported chocolate bars*, chopped
1/2 cup light corn syrup
1/2 cup butter, cut into cubes
2 cups whipping cream, divided
1 tablespoon Kahlua or other coffee liqueur
1 teaspoon vanilla extract
1/4 cup powdered sugar
2 cups whipping cream, divided
Fresh raspberries, for garnish
Raspberry sauce, for garnish
Place the chocolate, corn syrup, butter and 1/2 cup of the whipping cream in a saucepan over simmer. Simmer until chocolate melts, then stir the chocolate mixture to combine. Set aside to cool. Fold in the Kahlua and vanilla.

Line a loaf pan or terrine mold with plastic wrap, allowing extra wrap to extend over the sides of the pan.

Beat the remaining 1 1/2 cups whipping cream and the powdered sugar with an electric mixer at high speed until stiff peaks form. Fold chocolate mixture into the whipping cream in three additions. Pour into the prepared pan and chill 8 hours or freeze for 3 hours**. When ready to serve, invert on a platter, remove plastic wrap and slice. Serve on chilled dessert plates, drizzled with raspberry sauce. Garnish with fresh raspberries.

Makes 8 servings.

*A combination of 7 ounces semisweet chocolate, 3.5 ounces of milk chocolate and 5.5 ounces of bittersweet chocolate was used when testing the recipe.

** Chocolate Pâté may be made 1 week ahead and frozen. Thaw for several hours in the refrigerator or for 30 minutes at room temperature before serving.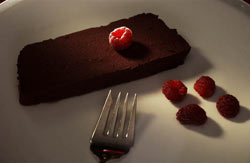 Related Recipe Categories


Desserts




Related Products


7-Ply Sauce Pans


Viking Professional Cookware products are manufactured with exclusive Multi-Ply construction. Multi-Ply construction is a specially designed combination of stainless steel and aluminum alloys for lifetime performance, durability with easy cleanup, quick and even heat distribution.

The ergonomic stainless steel handle, a Viking Design exclusive, provides maximum comfort and secure handling. Designed in the USA, made in Belgium.

2 qt. and 3 qt. sauce pans are currently on backorder.

30" Custom Sealed Burner Dual Fuel Range - VDSC
As every cook knows, perfection is a never-ending process. The dual fuel sealed burner range is proof of that. From the delicate VariSimmer™ setting to the 15,000 BTUs, available on all four burners, this is the most precise and powerful sealed burner system available. The redesigned range also offers the largest oven capacity and one of the fastest preheat times on the market.