by Karin Calloway


Living in Georgia near the South Carolina state line means I have access to the best peaches in the country, in my opinion, from June through August no matter which direction I turn. From orchard farm stands to corner produce stands, I pick up the season's best and then peel, slice and turn the gems into pies and preserves.

When time is short, I create quick Peaches Foster in mere minutes. Peeled and sliced peaches are sautéed in butter, then are sweetened with brown sugar, and enlivened with fresh lime juice, dark rum and peach schnapps. The warm peaches are delicious served over biscuits, like hot peach shortcakes, or over ice cream. When I have a bit more planning time, I bake up a simple Pecan Shortbread that is delicious served as a base for the peaches and vanilla ice cream.



Pecan Shortbread




1 1/2 cups confectioners' sugar
1 cup flour
8 ounces cream cheese (not low fat), cut into cubes
1/2 cup butter, cut into cubes
1 cup pecans
Preheat oven to 350 degrees F. Spay a 9-inch square baking pan with nonstick cooking or baking spray and set aside.

Place confectioners' sugar and flour in the bowl of a food processor fitted with a steel blade and pulse several times. Add cubed cream cheese and butter and pulse until mixture is crumbly. Add pecan halves and pulse until pecans are coarsely chopped. Press evenly into prepared pan. Bake for 30 minutes. Remove from oven and cool before cutting into squares.



Peaches Foster




6 fresh peaches, peeled, seed removed and cut into wedges
2 tablespoons butter
4 tablespoons brown sugar
2 tablespoons dark spiced rum, optional
2 tablespoons peach schnapps or peach nectar
1 teaspoon fresh lime juice
1 teaspoon vanilla extract
1/2 teaspoon ground cinnamon vanilla ice cream

Heat butter in a large sauté pan over medium-high heat. Add peaches and cook 2 to 3 minutes. Sprinkle brown sugar over peaches and cook, stirring, until dissolved. Stir in rum, if desired, schnapps or peach nectar and lime juice. Cook, stirring, until mixture thickens slightly, about 2 minutes. Serve immediately by placing a square of the pecan shortbread in the bottom of a bowl, topping with a scoop of the vanilla ice cream and drizzling with some of the peaches.



Makes 6 servings.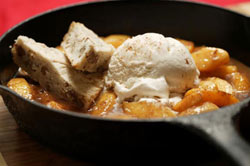 Related Menus


Summer Barbecue



Related Recipe Categories


Desserts




Related Products


Casual Thai
As the lazy days of summer wind down, you may have grown tired of the traditional barbecues and cookouts of the season and you're probably looking for an alternative to the same old menus.